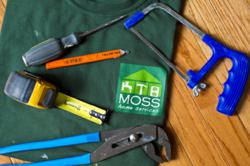 We pride ourselves in educating our customers about the home services and remodeling process so we can work together as partners through-out their project. We are honored to be asked by DullesMoms and can't wait to see what kind of questions come our way
Chantilly, Virgniai (PRWEB) May 17, 2013
Moss Building & Design, a premier remodeler in Fairfax, is pleased to announce that it has joined with Dullesmoms.com to serve as the Northern Virginia remodeling expert on the mom and family-focused website. Moss will be producing an "Ask The Expert" column answering questions from readers regarding home remodeling and home services.
Beginning May 15, 2013, questions from customers and readers of either Moss Building & Design or Dullesmoms.com will be answered by a home remodeling and home services expert from Moss Building & Design.
Questions could range from how to repair hardwood floorboards after dog and child water related spills to preparing your yard for the installation of a new swing set to repairing holes in walls from child gates.
"We are so excited to be able to feature Moss as our remodeling expert," said Liz Jones, owner of DullesMom.com. "Not only are they experts in remodeling but they have a reputation for taking care of their customers and caring for the community. So we were not surprised when they agreed to serve as our remodeling and handyman services experts. We know our readers will benefit from their expertise."
"Any time we can answer any questions about remodeling and educate consumers we are happy to do so," stated General Manager, Nathan Shaffer, Moss Home Services. "We pride ourselves in educating our customers about the home services and remodeling process so we can work together as partners through-out their project. We are honored to be asked by DullesMoms and can't wait to see what kind of questions come our way."
Homeowners who wish to learn more about Moss' remodeling services in Virginia – including additions, kitchens, baths, basements, our maintenance program and home services – or would like a free consultation, are encouraged to contact Moss (contact information below) or visit the company website at http://www.mossbuildinganddesign.com.
DullesMoms.com is a local, mom-owned resource that is a comprehensive source for family-friendly events and activities in the Greater Dulles Area. They reach more than 40,000 parents of infants through young elementary-aged children on a monthly basis through their site, social media communities, e-newsletter and more! Check them out at Dullesmoms.com and connect with them on Facebook and Twitter.
For home improvement in Northern Virginia, you can count on Moss Building & Design. Moss Building & Design and Moss Home Services are award-winning, family-owned residential remodeling and home services companies located in Chantilly, Virginia. Since 2001, we have established a reputation for excellence in remodeling additions, kitchens, bathrooms, and basements and home services throughout Northern Virginia. Our customers see us as a trusted partner and we are very proud of our exceptional 80% repeat customer and referral rates. Moss Building & Design has won consumer awards like Angie's List Super Service Awards the last three years and has an A+ rating from the Better Business Bureau, as well as many industry building and design awards.