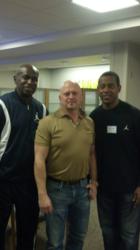 San Diego, CA (PRWEB) May 10, 2013
After getting over 150 NFL players treated, Pro Player Health Alliance (PPHA) has now been joined by many of them to help spread awareness on the deadly disorder, sleep apnea. Joined with David Gergen, owner of Gergen's Orthodontic Lab and founder of PPHA, they have been on a mission to "Tackle Sleep Apnea" nationally. The "Tackle Sleep Apnea" campaign led by David Gergen, Roy Green, Mark Walczak and Derek Kennard is a quest to travel to as many cities across the country as possible to spread awareness to the public. The next event will be held in La Jolla, California at Scripps Memorial Hospital.
While the majority of individuals know a loved one that has sleep apnea or have it themselves, they are unaware of the serious harmful effects caused by letting it go untreated. According to the National Commission on Sleep Disorders Research, about 38,000 deaths occur in the US on an annual basis that are related to sleep apnea making it the "Silent Killer."
Sleep disorders act no differently towards superstar athletes as they do with any other human being. Roy Green has experienced two strokes and two heart attacks due largely in part to sleep apnea. Roy said, "If I had met David Gergen years ago, I wouldn't have had to experience having a heart attack, let alone two heart attacks and strokes. I am extremely grateful for what he's done for me and my former teammates and I'm glad to be a part of spreading awareness on sleep apnea so others don't have to to go through what I did".
Roy chooses to wear an oral appliance manufactured by Gergen's Orthodontic Lab as his solution to sleep apnea, but that isn't the only option. Dr. Brad Eli, who is hosting the upcoming PPHA event, specializes in finding the right nonsurgical treatment for each patient depending on their specific needs. Dr. Eli says, "I believe the diagnosis of sleep disorders is complex and multi-dimentional, requiring a specialized physician, much like cardiology or neurology. The treatment options now are equally multi-dimentional requiring an expert who understands all the options and treatment. As a head and neck specialist, I'm well-qualified to present all the options to my sleep patients and expect outcomes above the national norm." Registration for the next event can be found at http://pphasandiego.eventbrite.com/
Event Details
Date: May 21, 2013
Time: 7:00 PM
Location: Scripps Schaetzel Center, 9890 Genesse Ave La Jolla, CA
About David Gergen
David Gergen, CDT and President of Pro Player Health Alliance, has been a nationally respected dental lab technician for over 25 years. He received the award for "The Finest Orthodontic Technician in the Country" given by Columbus Dental in 1986. He also has been appointed chair of the dental wing of the American Sleep and Breathing Academy a national interdisciplinary academy dedicated to sleep training and education with over 60,000 members. David rolled out of bed on September 12, 1981 and had his career "ah ha" moment. He knew he was going to be an orthodontic technician and he knew he was going to help people all over the country to help treat their sleep disorders in partnership with their dentists. He has worked for some of the pioneers in the orthodontic and sleep dentistry fields. He was the personal technician for the likes of Dr. Robert Ricketts, Dr. Ronald Roth, Dr. A. Paul Serrano, Dr. Clark Jones, Dr. Harold Gelb, Dr. Joseph R. Cohen, Dr. Rodney Willey, Dr. Allan Bernstein, and Dr. Thien Pham. One of his proudest achievements is receiving The National Leadership award for Arizona Small Businessman of the Year in 2004.
About Dr. Bradley Eli
Dr. Eli earned a post-doctoral Master's Degree at UCLA where he received advanced training in sleep disorders. He remains the only expert with this unique skill set in the San Diego region. Dr. Eli is on the hospital staff at Scripps Memorial Hospital La Jolla and UCSD. He is a member of numerous professional associations including the American Academy of Sleep Medicine and the American Academy of Dental Sleep Medicine. He holds multiple patents in the fields of both sleep and pain.