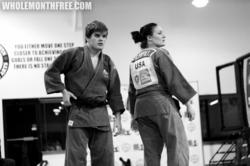 "When I opened Crazy 88 in 2005, everyone told me that it was impossible to run a serious competition school and also have it be successful,. They were wrong." - Julius Park
Owings Mills, MD (PRWEB) May 10, 2013
Baltimore's premier martial arts school Crazy 88 Brazilian Jiu Jitsu & Muay Thai Kickboxing is expanding again -- but this time, it's not just a new classroom, more mat space or a new Mixed Martial Arts cage.
Crazy 88 will soon be opening a brand-new, state-of-the-art mixed martial arts facility in Owings Mills, Maryland.
"My goal for the school is to provide an environment where anyone can learn real Jiu-Jitsu, real Muay thai, and real Mixed Martial Arts -- whether he wants to be a World Champion or just get in shape," said Julius Park, Crazy 88 owner and black belt in Brazilian Jiu Jitsu.
Park, who began training jiu jitsu in 1998 while in college at Cornell University, founded the school in Elkridge, Maryland in 2005.
From humble beginnings in a 600-square-foot aerobics room at The Body Factory gym, Crazy 88 has grown to a 15,000-square-foot academy that offers programs in Brazilian jiu jitsu, Muay Thai kickboxing, women-only fitness and martial arts, mixed martial arts and age-specific kids programs for children from pre-K through high school.
"When I opened Crazy 88 in 2005, everyone told me that it was impossible to run a serious competition school and also have it be successful," Park said. "In other words, I would need to 'sell out' and run a McDojo in order to survive. I'm glad I didn't listen. Crazy 88 is now responsible for close 100 percent of all Brazilian Jiu-jitsu Grand Slam medalist production in the entire Baltimore area."
Like the Elkridge school, Crazy 88's Owings Mill location will provide world class instruction by professional instructors who know how to create a positive and challenging learning environment. Students of all ages, skill and fitness levels will be welcome, and more details about specific kids and adults programs will be released in the near future.
To get started with your 30 day free trial at Crazy 88 today, or to find out more about the new location in Owings Mill, please call 443-283-1450 or visit us at Crazy 88, 7024 Troy Hill Drive, Elkridge, MD, 21075. You can also see more information online at http://www.baltimoremixedmartialarts.com