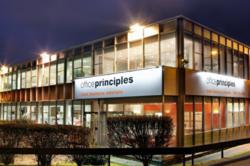 'Agile Working' is a dynamic approach that has already been adopted by world-class organisations
(PRWEB UK) 14 May 2013
Office Principles have good reason to celebrate. To successfully provide total business interiors for over 25 years is no mean feat. The industry has changed considerably since the company began and the business of providing office solutions and office planning has become much more competitive. In order to remain successful, a highly innovative approach is required and many companies have simply fallen by the wayside. Having a sought after team of experts including architects, interior designers and quantity surveyors amongst others, has enabled Office Principles to prosper in spite of the competitive market and the on-going global recession.
What companies require from their work environments has also altered greatly over the years. Office Principles have successfully developed Agile Working, an innovative methodology to support flexible working patterns and the creative use of office space. 'Agile Working' is a dynamic approach that has already been adopted by world-class organisations such as Google, BT, BSkyB and Unilever. Office Principles work with their clients to fully understand their business needs and corporate culture enabling them to replace the rigidity of the conventional office with a flexible workspace. This approach is designed to encourage individual choice. Click here to see a video demonstration of these techniques in more detail.
Office Principles was established in Reading as a family owned and family run business. They were initially focused on the local market however it wasn't long before they successfully expanded their client base throughout the Thames Valley, London and the south of England. Twenty-five years on and Office Principles have now completed many projects across Europe whilst still managing to maintain that family run, personal touch that they believe is so important.
Another reason for the longevity and the success of the organisation is their level of focus on professional development. Many accreditations and accolades have been received over the years including Construction line, ISO9001, ISO14001 and OHSAS18001. One of the most recent has been their inclusion within the 'Safe Contractor' Scheme.
With Office Principles accreditations, innovative working practices and their 'Client for life culture' with companies like GlaxoSmithKline, Premier League and the Daily Telegraph Media Group it looks likely that Office Principles can expect the next 25 years of business to be just as successful.
For more information, visit http://www.officeprinciples.com.