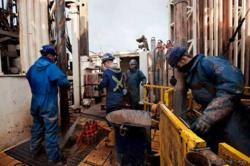 We're fully aware that local people will have many questions about our plans and we'll do our best to answer all of them.
Bolton, Greater Manchester (PRWEB UK) 13 May 2013
The shale gas company, Cuadrilla plans to drill south of Balcombe in June. Their well will be 3,000ft (914m) deep, and will then extend horizontally for 2,500ft (762m).
Cuadrilla gave assurances to the Balcombe Parish Council that no fracking would take place at the site, largely on the back of concerns raised in a meeting on the 3rd of May where the council said they were "committed to oppose" local fracking for gas.
Cuadrilla said in December that "at the moment" they had no intention of drilling at the site, however their drilling permission is soon to run out which is why they have begun operations.
Previous drilling in Lancashire in 2011 by Cuadrilla caused a temporary ban on fracking in the UK after two earth tremors were blamed on the operation.
The work is being opposed by environmental activists who fear this is just a stepping stone to widespread drilling. Tony Bosworth of Friends of the Earth said: "Today Lancashire, tomorrow the Weald – This drilling could lead to fracking on a large scale."
He also opposes the UK's investment in fracking, saying: "Fracking is dirty, unnecessary and a risk to our climate and environment. We should be investing in safe, clean energy from the wind, waves and sun."
Fancis Egan, Chief Executive of Cuadrilla attempted to ease the local community by saying: "Although this summer's work will be unobtrusive, we're fully aware that local people will have many questions about our plans and we'll do our best to answer all of them."
The government hopes that through investments into fracking and shale gas it can see the same drop in home and business gas prices as the US after they invested in the technique. This has been refuted by many experts however who say we face a completely different set of challenges.
Fracking would however make the UK less dependent on foreign fuels, thus shielding it from fluctuating global gas rates, although no actual 'drop' is prices is likely to occur.
To reduce gas and electricity prices, UK homes and business are unable to rely on the government to provide all the answers. Jonathon Stead, Marketing Executive at Love Energy Savings said: "The first and foremost way to save money on your energy bills is start by getting the best prices on your home or business energy."
He added, "Using an energy comparison company like Love Energy Savings could reduce your business energy prices by 40% per year, which is a great starting point if you then want to become more efficient to reduce them further."
For more information on UK energy, or to get a free and instant online business energy comparison, visit http://www.loveenergysavings.com.