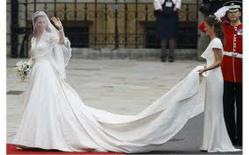 Burbank, California (PRWEB) May 10, 2013
Attendants of Woodbury University's upcoming event will receive the royal treatment, as London's world-class Royal School of Needlework (RSN) meets with fashion enthusiasts and rising designers to present an in-depth account of ancient needlework techniques and RSN's lucrative practice.
The event, which will be held at the Fletcher Jones Auditorium on Monday, May 13, will be led by Anne Butcher. With 30 years of experience under her belt, Senior Tutor Anne Butcher will also discuss the craftsmanship involved in mastering the art of needlework and the courses RSN provides which provides museum-quality training at a superior level.
In addition to identifying the differences between machine embroidery and skillful hand embroidery, guests will be introduced to the RSN Studio, which is charged with conservation and special commissions by notable figures, such as the Royal Family.
Examples of commissioned works include Kate Middleton's wedding dress, whose lace applique was hand-stitched by a dedicated team from the Royal School of Needlework. According to the U.K.'s Daily Mail, the lace, which employed the Carrickmacross technique was so intricate and perfectly sewn that it took about one hour to sew an inch of the lace.
More recently, the RSN Studio teamed up with fashion designer Dame Vivienne Westwood and actress Suzy Amis-Cameron to create a design competition focused on sustainable fashion. The winning design in the 2013 challenge was sewn by the RSN to dress British Skyfall actress, Naomie Harris, for her Oscars red carpet ensemble.
Guests will be able to examine samples of the RSN's masterpieces first-hand at the lecture. With handcrafted needlework experience become more of a rarity with today's technology, the event will likely attract students, designers and fashion aficionados who want to gain a competitive edge within the industry.
To RSVP, please contact Stephanie.tito(@)woodbury.edu. To find out more information about Woodbury University Fashion Department, please click http://www.woodburyfashion.com
About Woodbury University
Founded in 1884, Woodbury University is an accredited institution located in Burbank, Calif. that offers prospective students an array of undergraduate degree options such as fashion design, fashion marketing, architecture and more. Their mission is to provide a creative and innovative curriculum to students, while fusing real-world experience into every program.