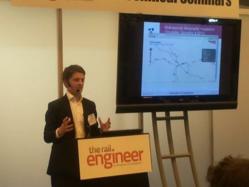 London (PRWEB UK) 13 May 2013
Rockshore Transport Director, Nathan Day, presented examples of open data applications to the audience at Railtex 2013.
His presentation looked at how providing train and freight operating companies with a real-time view of train location and status can help to drive innovation and improve operational efficiency, particularly in relation to management of network flow and delay attribution.
Nathan's presentation went on to discuss how the release of data in the UK rail sector is already producing applications that could complement legacy systems within the control room.
To date, much of the innovation has been focused around increasing availability of customer information, with websites such as Open Train Times, Raildar and Real Time Train Information providing journey status updates to passengers over the internet.
Rockshore predict rail operators themselves will look to apply real-time information within control rooms and across the wider operating environment to drive efficiency and improve network performance.
Download a copy of Nathan's presentation now.
About Rockshore
Founded in 2005 and headquartered in London, UK, Rockshore is a specialist provider of real-time information management solutions.
The Rockshore Event Processing Platform enables a broad range of real-time information management services which underpin our core application product suites across Airport-CDM (A-CDM), Managed Mobility and Rail Information.
Rockshore technology is used by leading providers in transport and telecommunications to deliver accurate, real-time intelligence that helps increase operational efficiency, improve decision-making and enable faster response times.
In early 2012, Rockshore worked with Network Rail to help release their real-time train running information as part of the network operator's wider transparency initiative.
The service, Data Feeds, provides access to a range of data sets and is accessed by Network Rail employees and the external developer community to build applications.