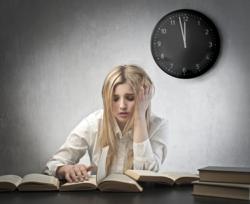 The pressure can become overwhelming, so much so that ChildLine recently launched an awareness campaign.
(PRWEB UK) 10 May 2013
The exam season is upon us - whether you're a student or the parent of a child sitting SATs, GCSEs, A-Levels or even a degree - it can be a testing and stressful time.
For many of the thousands of students across the UK busily revising for exams over the next few weeks, the pressure can become overwhelming, so much so that ChildLine recently launched an awareness campaign to let young people know that they can talk to the charity if they are suffering from exam stress.
Between 2011 and 2012, the charity saw a 47% increase in concerns about school and education, and a quarter of counselling relating to school and education was about exam pressures. Typical symptoms of exam stress in children include sleep problems, bed-wetting, reluctance to go to school and not eating. Some kids can become withdrawn and spend more time on their own in their bedroom.
But there are many tips that young people and their parents can take to help them beat the exam blues. These include parents offering their support and reassurance, drawing up a revision timetable, and ensuring the student has a quiet space to revise without distractions away from the rest of the family.
Omar El-Gohary, Superintendent Pharmacist at Chemist Direct, said: "It's also important to ensure that young people take a break from revising – whether it's for an hour with friends or siblings, playing sport, watching a bit of television or even just going for a short walk.
"It's essential to eat a healthy diet, and supplements such as Berroca (£8.99 for 30 tablets which can help to support the immune system when students may be a bit run-down."
The in-house team of pharmacists at Chemist Direct also advises students to avoid stimulants such as caffeine and sugar, and to get a good night's sleep.
Omar added: "Young people need to get enough sleep to keep their energy levels up in the day. If they are having trouble sleeping, they should take a break from revising before getting ready for bed, and a bath filled with Radox Sleep Easy Bath Soak (£2.25 for 500ml at Chemist Direct which may help them to switch off at bedtime."
On the day of the exam itself, El-Gohary suggests Bach Rescue Remedy Spray (£4.71 for 7ml which can help to calm nerves.