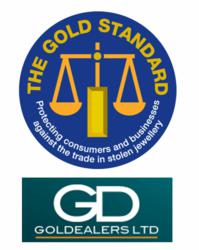 (PRWEB UK) 13 May 2013
As the price of gold has risen enormously over the last few years, The UK gold trade has recently seen a burst of merchants offering cash for gold. However, this flurry of new services has seen a steep increase in deceitful activity, including misquoting prices and the illegal fencing of stolen goods.
After months of collaboration between the British Jewellers association and various different organisations, including the Surrey Police, the National Pawnbrokers Association and the National Association of Pawnbrokers, the Gold Standard was officially introduced during April 2012. This is great news for respectable gold merchants, such as Goldealers.
Since its launch, the Gold Standard has received accreditation from several sources, including the Association of Chief Police Officers and the Trading Standards Institute. Acting as a voluntary code of conduct for gold buyers across the UK, its aim is to develop trust in the gold trading industry by introducing new countermeasures that make it, one, safer for buyers and sellers alike, and two, increasingly more difficult to vend stolen goods.
Goldealers were quick to sign up as a Gold Standard registered retailer, paving the way for other merchants as an early adopter of the practice. Although it's still voluntary for traders to sign up, the company are optimistic about the effects on the UK gold trading market, as it sets a standard of trading where none previously existed.
"The Gold Standard has successfully encouraged online scrap dealers to tighten up their paperwork by asking for the name, the address and verification of customer's age as well as a signed disclaimer about stolen goods from each client. The dealer holds all information and details of the scraped items for three months for policing purposes." commented a Gold Standard representative.
The police have also agreed to work closely with Gold Standard registered traders in order to ensure that stolen goods are properly tracked and recorded, and thus reduce the potential risk of consumers having their newly purchased jewellery seized or being questioned as part of an investigation dealing with illegal goods.
Goldealers hope that registering for the Gold Standard will soon become second nature for retailers everywhere, in order to properly reduce risks and bring a high level of trust back to the gold trading industry.
###
About Goldealers:
Goldealers are a BJA Gold Standard registered retailer, proud to offer some of the best prices for gold in the UK and Europe, for unwanted gold jewellery.