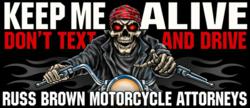 Drive like your life depends on it - cause it does!
Los Angeles, CA (PRWEB) May 10, 2013
May is National Motorcycle Awareness Month and the best time to start raising awareness in regards to sharing the road with motorcycles. Motorcycle numbers on the roads increase by the thousands in May due to the warmer weather, and sadly that also means an increase of motorcycle accidents and fatalities. 2012 saw a huge spike in motorcycle accidents and fatalities. That can be attributed to a few factors including, but not limited to, a long riding season due to above normal temperatures, a sharp increase in the number of motorcycle registrations, more smart phones, which equals more distracted driving, etc.
Here are a few driving tips for both motorcycle riders and other motor vehicle drivers for the upcoming summer riding months.
Four-Wheel Vehicle Drivers:
Motorcycles can quickly disappear into a drivers blind spot.
Always allow a greater following distance and give the motorcycle a large amount of space.
Judging a motorcycle's speed may be difficult due to the smaller size. Assume its closer and traveling faster then it appears.
Dangerous road conditions make it harder for motorcycles to stop. If driving in bad weather or on dangerous roads give the motorcycle more room to maneuver.
Motorcycle Riders:
Motorcycle riders are the most vulnerable on the road
Avoid driving in blind spots - especially the blind spots of large trucks. Large trucks have a few of blind spots including both sides, in front and behind and cannot stop as fast as a motorcycle.
If wearing a helmet be sure it is a DOT helmet. Many 'trendy' helmets that are selling by the thousands are not DOT approved and giving motorcycle riders a false sense of security.
Motorcycles are the smallest vehicles on the road so 'drive to survive'. Be aware of what other vehicles are doing on the road. Ride with caution and drive defensively.
Keep up with motorcycle maintenance and do an inspection prior to hitting the open road. Equipment or parts can malfunction causing problems on the road.
Wear protective clothing and dress to be seen. Bright colors and reflective clothing are easier to see especially at night.
All Drivers:
For all the vehicles on the road it's important to watch the speed, stay off the cell phone, don't drink and drive and be aware of others on the road.
Drive like life depends on it - cause it does.
Russ Brown Motorcycle Attorneys - 'Keep Me Alive Don't Text & Drive' Campaign.
Russ Brown Motorcycle Lawyers have noticed an increase in distracted driving has taken it's toll on motorcycle riders. When a driver of ANY vehicle picks up a cell phone or smart phone to call or text someone there is a chance that an accident can occur. The smallest distraction happening at the wrong time can have catastrophic results.
Help raise awareness this May. Complimentary 'Keep Me Alive Don't Text & Drive' stickers available at http://www.killabikergotojail.com.
Russ Brown Motorcycle Attorneys
Russ Brown Motorcycle Lawyers have been fighting for injured riders hurt in motorcycle accidents for over thirty-five years. Motorcycle Lawyer Russ Brown created the rider helping rider program called BAM. BAM, Free Breakdown and Legal Assistance for Motorcyclists helps motorcycle and scooter riders who are stranded on the road in an emergency situation and offers free legal advice to anyone who needs it. Membership is free - for more information on Russ Brown Motorcycle Attorneys and BAM head to http://www.russbrown.com