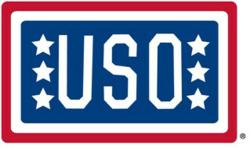 The USO is proud to be part of the spirit, camaraderie and sportsmanship that is the Warrior Games... - USO President and CEO Sloan Gibson
Arlington, VA. (PRWEB) May 10, 2013
For the fourth consecutive year the USO will be supporting our nation's wounded, ill and injured service heroes as they participate in the annual Warrior Games. The week long event, held May 11-16th, in Colorado Springs, Colorado is a Paralympic-style athletic competition designed to boost morale, strengthen bonds and help our healing heroes achieve a brighter and more fulfilling future.
"The USO is proud to be part of the spirit, camaraderie and sportsmanship that is the Warrior Games," said USO President and CEO Sloan Gibson. "Whether our troops are preparing to deploy, transitioning back to civilian life or in the recovery process, the USO is always by their side. Through support of events like the Warrior Games, the USO and the American public are able to make a tangible and meaningful difference in a recovering hero's life, and let them and their families know that they are not healing alone."
As part of competitions week the Mobile USO, supported by Rocky Mountain USO volunteers, will be onsite offering a variety of snacks and support to the athletes and families. Additionally, the USO will provide meals for athletes and their families and on Monday, May 13th from 3pm – 5pm the USO will host a family fun event. Nearly 500 family members are expected to attend the Warrior Games this year, so this two-hour family event will include caricatures, face painting, a magician as well as arts and crafts stations where children can make signs and medals in honor of their competing parent, family-friendly games and carnival snacks. The USO Show Troupe will also perform on Saturday evening at the Tailgate event following the Opening Ceremonies. USO is fully committed to making this a memorable experience for the athletes and their families.
This year's Warrior Games, presented by Deloitte with additional support from the Department of Defense, Department of Veterans Affairs, AT&T, BP, Budweiser, Fisher House Foundation and Semper Fi Fund, will include a special visit from England's own Prince Harry. Prince Harry will attend the opening ceremonies on Saturday, May 11, 2013 – which will also include a sitting volleyball exhibition match between U.S. and U.K teams.
No stranger to supporting wounded warriors Prince Harry recently announced his plans to participate in the 2013 Walking with the Wounded South Pole Allied Challenge, a 4-week, 208-mile trek through the South Pole being undertaken by three teams of healing heroes from the U.K., U.S. and the Commonwealth (which includes Australia and Canada).
Included among those selected to represent the U.S. team in the South Pole Allied Challenge is retired U.S. Army Sergeant Margaux Mange, who will also represent Team Army at the 2013 Warrior Games in cycling and track and field. Mange is currently recovering from injuries sustained when her vehicle was damaged by an IED blast during her 2006 deployment to Iraq. The USO will support Mange as she trains for and completes the 2013 South Pole Allied Challenge.
Some 40,000 troops have been visibly wounded in the conflicts in Iraq and Afghanistan, and some estimate that more than 300,000 troops are living with invisible wounds, such as post-traumatic stress or traumatic brain injury. As more and more of our servicemen and women are returning home, the USO has expanded its programs and services to meet the needs of our returning heroes. In 2013, the USO will host 200 events designed to support transitioning troops, families and caregivers nationwide. Last month the USO was honored to receive the Amazing Salute Award from the U.S. Paralympic Committee, in recognition of its continuous support of wounded warriors, their families and caretakers.
To learn more about the USO visit http://www.uso.org.
# # #
About the USO
The USO lifts the spirits of America's troops and their families millions of times each year at hundreds of places worldwide. We provide a touch of home through centers at airports and military bases in the U.S. and abroad, top quality entertainment and innovative programs and services. We also provide critical support to those who need us most, including forward-deployed troops, military families, wounded warriors and families of the fallen. The USO is a private, non-profit organization, not a government agency. Our programs and services are made possible by the American people, support of our corporate partners and the dedication of our volunteers and staff.
In addition to individual donors and corporate sponsors, the USO is supported by President's Circle Partners: American Airlines, AT&T, Clear Channel, The Coca-Cola Company, Grand Canyon University, jcpenney, Jeep, Kangaroo Express, Kroger, Lowe's, Northrop Grumman Corporation, Procter & Gamble and TriWest Healthcare Alliance and Worldwide Strategic Partners: BAE Systems, The Boeing Company, Lockheed Martin, Microsoft Corporation and TKS Telepost Kabel-Service Kaiserslautern GmbH & Co. KG. We are also supported through the United Way and Combined Federal Campaign (CFC-11381). To join us in this patriotic mission, and to learn more about the USO, please visit uso.org.