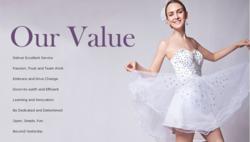 (PRWEB) May 10, 2013
Today, Dresses1000.com, an online dress store well known for its lace wedding dresses and little black dresses, updates its new web page. The updated site provides the latest and the prettiest wedding dresses from a great selection of designers and makers. Ladies can find many wedding dress descriptions, commentaries, purchasing tips, and so on.
According to Sherri Wang, CEO of Dresses1000.com, the new site is to help the brides stay informed about the hottest designs, and helps people to choose cost-effective products prior to shopping. Dresses1000.com loves high-end fashion, and believes finding a premium-quality piece is a satisfying issue. It has built a track record for supplying awesome specials on fashion products.
"We have much expertise within the market. Now, people can know more information about fashion with some clicks of a mouse," says Sherri Wang.
He especially recommends, "We have added a new section of Special Offer to our website, which offers some of our stunning styles, like maternity wedding dresses, Quinceanera dama dresses and more. It is a good chance to purchase something unique and trendy. The only difference is that they are available at extremely low prices! Make sure you don't miss out as stocks will not last forever!"
About Dresses1000
As a leading online store that offers wedding dresses, Dresses1000's mission is to 'make women more beautiful' by offering stylish and high-quality women dresses to each customer. Good customer service, high quality, fast delivery, and competitive prices, are the reasons to choose Dresses1000.
For more information, please visit http://www.dresses1000.com.