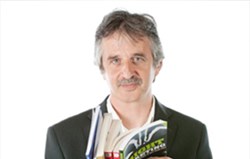 People should only write great stuff if they're blown away by what you do, so firstly, blow people away.
Manchester (PRWEB UK) 10 May 2013
Robert Craven, who the Financial Times calls the 'Entrepreneurship Guru,' and Sir Richard Branson has endorsed, has warned businesses against competing on price in a new interview.
He made the comments during the second part of an exclusive interview with business website Find the Edge.
Speaking to the site's founder, Kenny Goodman, he discussed a number of topics, including ways to become perceived as a business expert, how to gain great testimonials, and why lowering prices to compete is a dangerous game.
He said: "People immediately try to compete on price during tough periods. If you've got a product you're buying for £7 and selling for £10, the gross margin is 30%. If you put your prices up by 10%, the maths say you can afford to lose 25% of your sales, and you'll still have the same amount of sales.
"The customers you lose are the penny pinching, price conscious ones, who are the people who'll abandon you as soon as they find somewhere cheaper anyway.'
"If you put your prices down from 10% to £9, you need to find 50% more customers to stay in the same position."
He also discusses how he managed to get Richard Branson to endorse him, and the best ways for other business people to source impressive recommendations that can enhance their careers.
He said: "There are two bits to this. People should only write great stuff if they're blown away by what you do, so firstly, blow people away.
"And secondly, use every trick and hook - and your own cunning - to get people to admit they like what you're doing. I'd say it's a bit of a circular thing, if you're doing great stuff people will say great things about you."
The interview can be listened to, or downloaded, in full here: http://www.findtheedge.co.uk/interviews/how-to-grow-your-business-interview-with-growth-master-robert-craven-part-2.
Robert Craven has earned his reputation as a prolific author of business books, and by creating effective business development strategies. More about him can be read here: http://www.findtheedge.co.uk/expert-panelist/robert-craven.
Kenny Goodman said: "There are so many nuggets of valuable knowledge in this interview that all business leaders should give it a listen.
"The first part of the interview is still available, so be sure to listen to the whole thing for some great insight. I'm delighted to say that Robert has also agreed to contribute some articles to Find the Edge over the coming weeks."
Find the Edge is a new website that is aimed at business leaders. It provides access to articles, news and interviews completely free of charge.