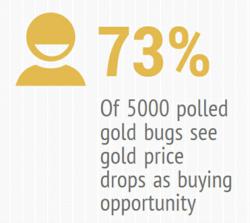 Chinese gold buying trends in particular are a tidal wave being unleashed onto an already tight market for physical gold
(PRWEB UK) 12 May 2013
With The Real Asset Company's Head of Research Jan Skoyles describing Chinese gold buying trends in particular as a "tidal wave being unleashed onto an already tight market for physical gold," their latest research shows what over 5,000 investors from more than 80 different countries think about the world economy and bullion markets. Representing the largest range of goldbug opinion data online, key takeaways include:

53% of gold investors own Bitcoin
Over 44% feel much financially worse off than they did previously
Over 36% believe the Japanese Yen will be the most debased currency in 2013
Brits believe the pound will be the most debased
73% see recent gold price drops as opportunity to buy 'lots more'
With Max Keiser also suggesting that "citizens of America's two biggest creditors China and Japan are now fighting each other to buy Gold and Silver," there has never been a more important time for individuals to look at diversifying their investments. The Real Asset Co's report is essential reading for anyone looking to invest in gold or silver bullion.
About The Real Asset Company
Based in London, UK, The Real Asset Company offers greater choice for investors and improved access to the bullion markets, proving an open market place for individuals to buy gold online. Using LBMA approved vaults in London, Geneva and Singapore, The Real Asset Company's simple yet powerful platform was designed to help smaller investors buy gold bullion with the same security and efficiencies available in the wholesale markets, all from one simple account.
As well as making it easier and more efficient for individuals to buy gold and take personal possession of the bullion bars traded in wholesale markets, The Real Asset Company provides the opportunity for investors to set up their own professional vault facility if required.