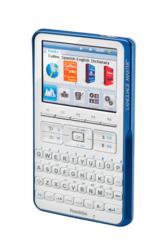 Burlington, NJ (PRWEB) May 13, 2013
Franklin Electronic Publishers today announced its most in-depth visual and auditory tool for language learning available in a pocket handheld -- Gran Maestro Spanish-English Language Master™ bi-lingual dictionary.
"With its 2.8 inch color touch screen, the Gran Maestro handheld, or 'Great Teacher' puts a bookshelf of English and Spanish language knowledge at your fingertips," said Koda Madison, Director of Global Marketing for Franklin Electronic Publishers. "Covering all components of language learning, this powerhouse masks the drudgery of learning through its friendly interface, instant spell correction, and addictive games and quizzes," she added.
"Our approach was simple. Anyone can move from understanding the most basic words in either language to quickly comprehending a conversation using the Gran Maestro handheld, not to mention that our product is also perfect for students preparing for standardized tests including the SAT, ACT, TOEFL, and TOEIC tests," Madison said.
The Gran Maestro helps you progress beyond basic vocabulary and learn sentence structure, grammar and composition through dictionaries and language guides powered by renowned publishers Collins, Vox, and Merriam-Webster, including the following:
---- Collins Spanish Dictionary Complete and Unabridged 9th Edition (Spanish-English, English-Spanish). This 40th anniversary edition of the Collins Spanish Dictionary is the perfect resource for advanced learners of Spanish, featuring wide-ranging coverage of contemporary Spanish to help the user discern subtle differences between European and Latin American Spanish dialects. With more than 315,000 translated references, this is the largest Spanish dictionary on the market.
---- Diccionario General de la Lengua Española VOX - This VOX dictionary is known as one of the most important reference works with over 100,000 Spanish definitions.
---- Merriam-Webster's Advanced Learner's English Dictionary - This publication is designed to help ESL students master spoken and written English in practical settings by including nearly 100,000 words and phrases, with more than 160,000 usage examples and 22,000 idioms and common phrases.
---- Diccionario Merriam-Webster de Sinónimos y Antónimos en Inglés - A powerful and practical guide to English synonyms for Spanish speakers, this guide provides more than 9,000 synonyms and antonyms with clear explanations and abundant usage examples.
---- Merriam-Webster's Vocabulary Builder - This provides a perfect English vocabulary tool for students preparing for standardized tests. This unique guide provides a wealth of Latin and Greek root word information, allowing the user to discover thousands of words and terms derived from a core selection of 250 Greek and Latin root words. Test your learning progress through the interactive quizzes.
---- Merriam-Webster's Spanish-English Visual Dictionary - One of the most ingenious tools produced is included for language mastery. Using images to guide the learner quickly, it features more than 25,000 entries in English and Spanish. The data is broken into 17 real-life categories and hundreds of subcategories that are all keyword searchable. The user can navigate to translation examples highlighted on the images and hear the translation in human speech with the corresponding keyboard command.
---- Franklin® Thesaurus and the English-Spanish Grammar Guide - An invaluable searchable reference for users sharpening their grammar and language skills. A thesaurus is an essential tool in language learning, helping a learner understand a sentence or phrase they might otherwise struggle with.
---- The EuroTalk Language Course - This included course is designed to facilitate language acquisition in either English or Spanish. Its interactive video lessons are built with the teenager's social life in mind, teaching informal words and phrases and then transitioning to business conversation examples. The speech recording feature of this handheld allows the user to compare his or her skills to those of native speakers, and listening games prepare the user for real-world situations, such as navigating through a Spanish conversation even if every word is not understood. The Course is designed to give the user knowledge in vocabulary, grammatical rules, and more for a comprehensive understanding of English and/or Spanish.
The new Gran Maestro Speaking Spanish-English Language Master™ Dictionary, model # BSI-6300, will be available beginning in June at http://www.franklin.com for $199.00 and includes a built in rechargeable battery with both US and European USB charging adapters. A headphone jack is also included for private listening.
About Franklin Electronic Publishers:
Franklin Electronic Publishers Incorporated is a world leader in electronic handheld information, having sold over 45,000,000 electronic books under license from world class publishers such as Collins, Merriam-Webster, Oxford University Press, Larousse, Langenscheidt, and PONS. The Company also licenses its underlying technology to an array of partners including Adobe. Franklin's products are available at 49,000 retail outlets worldwide, through catalogs, and online at http://www.franklin.com.
Some trademarks used herein are owned by third parties and, where appropriate, are used pursuant to license.
Contact:
Koda Madison, Director of Global Marketing
Franklin Electronic Publishers
Phone: 609-386-2500
Fax: 609-387-2666
Koda_Madison(at)franklin(dot)com
http://www.franklin.com
###