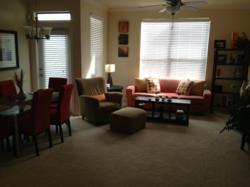 We are excited to have Leo as part of our fast growing team of professionals at Avenida Suites,
Tampa, Florida (PRWEB) May 13, 2013
Prior to joining Avenida Suites, Leo served in the role of International Account Executive at IMPACT Group, where he was tasked with developing new business and strategic partnerships, as well as managing existing international accounts with a focus on client satisfaction, revenue optimization, and account growth. Leo is originally from Buenos Aires, Argentina and moved to the United States to attend college on a soccer scholarship. He holds a BA in Communications and a Master in Business Administration.
"We are excited to add Leo to our team. His international experience and his commitment to client satisfaction is in direct alignment with our mission and core value," says Dan Gorman, President and founder of Avenida Suites.
About Avenida Suites
Avenida Suites is a rapidly growing provider of corporate housing and serviced apartments with head-quarters in Tampa, Florida and Sao Paulo, Brazil. Each temporary furnished home within the portfolio is carefully chosen for its location, size, condition, amenities, and many other factors. Beyond offering the right place to stay, Avenida systematically manages each phase of the temporary housing process to ensure it is simple, responsive and flawless across every market served. Avenida's temporary housing is available for stays of 30 days or longer. For more information on how Avenida Suites may be able to help you or your company with temporary housing or serviced apartment needs in the United States or Brazil call 1-888-553-9943 for U.S needs or 55-11-3958-8733 for Brazil or visit the website at http://www.avenidasuites.com.