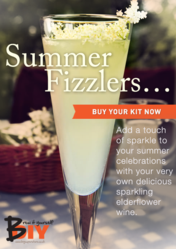 Toast the beginning of summer with a glass of Sparkling Elderflower Wine.
(PRWEB UK) 11 May 2013
Nothing quite says summer like a delicious glass of home-brewed Elderflower "Champagne." So in light of this home brew specialists BIY Superstore have put together some kits to help all existing and new brewers pave the way to home brew perfection.
The kits come with everything required to brew the perfect sparkling elderflower wine, all that's left to do is pick the elderflowers when they are in season, brew and enjoy.
Elderflower "Champagne" is perfect for all occasions, summer BBQs, parties, picnics or just as a light, scrumptious refreshment whilst soaking up the sun. Don't fancy the fizz? Then why not make some delicious cordial; great with ice cold water, made into ice lollies - or better still frozen to make ice cubes and placed in the preferred tipple!
So get ready to toast the beginning of summer with a delicious glass of Sparkling Elderflower Wine and buy your kit now.
Improve your home... Make wine in it!