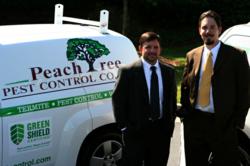 "... In fact, termites do more damage to American households than hurricanes, tornados, and fires combined. A staggering, yet true statistic." says Corey Arnold, President of Peachtree Pest Control.
Atlanta, GA (PRWEB) May 23, 2013
Termites are voracious consumers of wood so when one considers that every state, with the exception of Alaska, is home to one or more species of termite, the potential for destructive consequences comes into clear focus.
In the U.S. there are thousands of termite species but only three are of primary economic concern. They include; Subterranean, Formosan and Dry Wood termites. Depending on the geographic location, one or more of these beasties can infest your home. Often the signs of damage are noticed before the actual insect is visualized. And because termites are social insects, meaning they have lots of members in their family structure, infestation usually involves tens of thousands of wood chomping marauders.
According to Corey Arnold, President of Peachtree Pest Control of Atlanta, termite control in the Southeast is vital to the long term maintenance of homes. Peachtree Pest Control, a multiple year winner of the Consumers' Choice Award, sees this year as the perfect storm for termite problems. "Mild winter temps and a wet spring create the ideal conditions for termite infestations. We've certainly seen this with the 2013 season" explains Mr. Arnold".
Another thing to remember is that the typical homeowner's insurance policy does not cover the treatment of termites or cover the damage caused by termites. This comes as a surprise to most homeowners when told they have termites and then contact their insurance company to submit a claim.
While a termite infested home can be treated and the pests eradicated, the best and cheapest approach is prevention. The first step is contacting a qualified pest control company, such as Peachtree, with expertise in termite control. There are a number of methods available for controlling termites. Using liquid pesticides applied into the ground around and under structures is probably the most common method used, but there is also the use of baiting systems, application of products directly onto the wooden components of buildings, gas fumigation, heat treatments, termite "shielding" products, and others. Each method has advantages and disadvantages to their use. And one is not necessarily better than any of the others, unless one takes into account the construction of a given building as well as the type of termites attacking the structure. In reality, a combination of treatment methods will almost always be the best way to keep termites from attacking.
Preventing and eradicating termite infestations is not a DIY project for the vast majority of people. A reputable pest control company is always your first and last line of defence.
For more information about this and other pest problems, contact: 855.PEACHTREE.
http://www.peachtreepestcontrol.com/
About The Consumers' Choice Award:
Established in 1987, the Consumers' Choice Award® identifies and promotes businesses that deliver customer service excellence. The Consumers' Choice Award® has retained a leading independent research firm to conduct surveys in U.S. cities; Columbus , Atlanta, Dallas, and Houston. The winners are determined by consumers and not by a panel of judges. The survey covers a broad range of categories of interest to both the public and business communities. Its purpose is to publicly identify those establishments that have been voted by consumers as being their choice for excellence. The Consumers' Choice Award® is a most prestigious tribute to local businesses that serve their communities well. The program is encouraged by all levels of government and by business leaders. Find out more about The Consumers' Choice Award® by visiting http://www.consumerschoiceaward.com/.