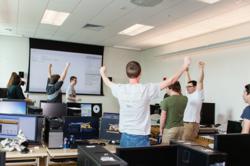 These students are amazing – they're bright, collaborative with each other and competitive at cyber-security events.
(PRWEB) May 13, 2013
Cyber-security is becoming a key focal area of Northern Kentucky University's College of Informatics. "We have our students prepare an offensive cyber warfare strategy as a way to educate them in ethical hacking skills, which are needed to actively defend critical IT infrastructure," said Dr. Hu, Computer Science faculty member, who has been the team's coach and resident photographer for the past five years.
Dr. Hu added, "I'm thrilled our student cyber-security team won first place at the Cyber-wars Invitational Competition Saturday, May 4." The competition was an eight-hour online battle that combined offense and defense. The CSSIA (Center for Systems Security and Information Assurance) is supported by the National Science Foundation and provides students with real-world experiences in the field of cyber-security. Because the field of cyber-security changes so quickly, competitions like CSSIA's are taking on an increasingly important role as a way for students to demonstrate their skills to potential employers and for universities to ensure that their security curricula are up to date.
The competition was intense: "At one point, six other teams were ganging up on NKU and simultaneously attacked our servers", said NKU team member Lee Epling. "We hit back." "We were able to keep the highest percentage of up-time and fought to capture a first place win."
This victory comes on the heels of NKU's third place finish in the Midwest Regional Collegiate Cyber Defense Competition in March. NKU placed higher than any other public institution among 50 teams competing in the Midwest. According to attorney Alan Hartman, who heads DBL Law's technology law practice group: "these students are amazing – they're bright, collaborative with each other and competitive at cyber-security events. There's such a growing need for college graduates with this type of knowledge and related skills."
On the NKU team were students Josh Bemerer, Sean Benson, Lee Epling, Connor Gerome, Brandon Hinkel, Daniel Kirschner, Jack Lannon, and Brandon Warner. Team alumni Ty Braunwart and Kevin Childers helped set up the network and virtual machines for the team's intensive practice sessions before the competition. The team made use of Griffin Hall's state-of-the-art virtualization lab to connect to the competition network.
Offering a strong cyber security program is only one of the ways the College of Informatics works to help ensure a more secure digital world. The main reason why cyber defense is necessary is because software itself is often released with security flaws. The Department of Computer Science offers a graduate certificate in Secure Software Engineering, which helps software developers learn to write code without security vulnerabilities. More broadly, the college recognizes the importance of the social, legal, political, and ethical context of digital security. The Information Technology major, now the second highest enrolled major at NKU, requires all of its students to complete an IT Ethics course, developed especially for the program by the Philosophy department.
Northern Kentucky University is a university of nearly 16,000 students located seven miles southeast of Cincinnati in the quiet suburb of Highland Heights, Kentucky. The College of Informatics celebrated the opening of the $52 million Griffin Hall in the fall of 2011. Informatics unites the disciplines that confront the concept of information in today's increasingly digital world. The informational perspective provides new ways of thinking about traditional disciplines of communication, computer science and information technology to include Information flows in the global economy, information in cyberspace and cyber security, and the dynamics of social networks.
For more information, contact Dan Koabel at (859) 572-7927. Dan is the Director of Creative Technology for College of Informatics at Northern Kentucky University.