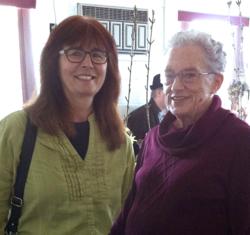 "I look forward to contributing my continuous research in online learning to a contemporary program in adult education." - Dr. Rita Kop
Toronto, Ontario (PRWEB) May 14, 2013
Yorkville University held a small and elegant reception last week to celebrate the contributions Dorothy MacKeracher has made to the Master of Education in Adult Education Program as the founding Dean of the program. Dr. MacKeracher will remain on the faculty roster, and continue to teach students enrolled in the Masters Program. The University is pleased to announce Dr. Rita Kop as the new Dean of the Faculty of Education. Her appointment is effective immediately.
Dorothy MacKeracher has lead a full career devoted to the innovation and development of education programs for adult learners. Prior to her position at Yorkville University, Dr. MacKeracher was a professor at the University of New Brunswick and worked diligently at creating and developing their Master of Adult Education program in the Faculty of Education. Her comprehensive career positioned her as a pioneer in the delivery of distance education courses at UNB. An accomplished author and researcher, her book Making Sense of Adult Learning was a finalist for the Small Book Press Award of 1997.
Yorkville University acquired a true aficionado of life long learning. The Master of Education Program has truly benefited from her commitment to maintaining a contemporary outlook on adult education and distance learning.
It is with pleasure Yorkville welcomes Dr. Rita Kop, a leading expert in online learning, into the role of Dean. Dr. Kop comes to the University with an extensive background in the research of Personal Learning Environments and Massive Open Online Courses (MOOCs) with the National Research Council of Canada's Institute of Information Technologies. She has previously worked as an Assistant Professor in Adult Continuing Education at Swansea University in the UK, and as a Head Teacher in elementary education in the Netherlands.
Dr. Kop is well equipped to face any challenges presented by the constant adaptations needed in order to keep pace with the changing landscape of adult learning.
Join Yorkville University in honouring the inspiring career of Dr. Dorothy MacKeracher and welcoming the developments Dr. Rita Kop will bring to the Master of Education programs.
Yorkville University is a Canadian national university dedicated to providing accessible degree, diploma and certificate programs leading to professional careers.