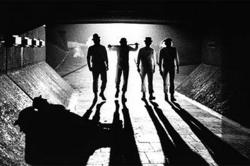 It's been a long time since someone came up with a useful entertainment news app which offers real-time updates on the film market, box office news and trends...
New York, NY (PRWEB) May 15, 2013
Mighty Mack announces in-app updates to its comprehensive news lists to facilitate access to insider information during the Cannes 2013 kickoff.
This year, Cannes is opening its curtains with the much anticipated film by master filmmaker Baz LUHRMANN, 'The Great Gatsby'. The adaptation of F. Scott Fitzgerald's classic novel sees Luhrmann teaming up again with Leonardo DiCaprio; the two previously worked together in "Romeo and Juliet," and also stars Carey Mulligan as Daisy Buchanan and Tobey Maguire as Nick Carraway. "The Great Gatsby" will be released on May 10 in the United States where audiences and critics will have already weighed in on the film before Cannes.
Cannes features plenty of festival regulars. Soderbergh will bring "Behind the Candelabra," the Liberace biopic that will premiere on HBO on May 26, while the Coen Brothers return with "Inside Llewyn Davis" which stars Carey Mulligan and Justin Timberlake.
Other notable films include Sofia Coppola's "The Bling Ring," which will open the Un Certain Regard sidebar, notes The Hollywood Reporter.
Since the App entered the marketplace, it proved to be a great way to stay informed on Festival news, reviews, and interviews. It is the mobile lifeline to all the professional entertainment industry news and stories. "It's been a long time since someone actually came up with a useful entertainment news app which offers real-time updates on the film market, box office news and trends, plus the usual news and reviews on indies, mini-majors, and studio releases." said Sasha G, a long-time festival attendee and App user.
Film Today amasses entertainment news from reliable sources, giving the user a quick and accessible way to follow the trades, news outlets and popular opinions.
The Film Today App brings articles pulled from customized lists of publications, journalists, trades and opinion leaders for each subject channel. Mighty Mack continuously monitors and adjusts the source lists to include new sources and publications as well as notable voices of opinion columnists.
Film Today gathers its sources into the following sections:

Film Industry News and minute-by-minute updates
Box office estimates and the performance of new releases
Studio news including new positings, appointments and announced films
Comments and insights from industry personalities
Festival news and gossip, including reaction to premieres and acquisitions.
Indie film highlights, reviews, and performances.
Features and requirements
Compatible with iPhone 3G, 3GS, 4, 4S and 5
iPod touch
iPad non-retina and retina
Requires iOS 4.3 or greater
Easily share your favorite news with friends via Email, Facebook and Twitter.
Film Today is published by Mighty Mack and available today at bit.ly/film-news
--
Mighty Mack is a leading publisher of distinguished digital products for the consumer and professional markets. The Company leverages newly available digital tools to create, design, and share new ways of consuming information and experiencing the world around us. The company has released a variety of best-of-class Apps, including Advertising Today, Morpheus Dreams, Where2Boss?, Agora Briefcase, Film Today, among many others.
To learn more about Mighty Mack please visit their website at http://www.mightymack.com or email them to press(at)mightymack(dot)com.