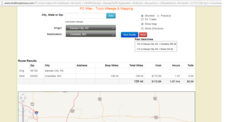 Being able to quickly obtain accurate mileage figures is a great asset.
Nixa, MO (PRWEB) May 13, 2013
Bulk Loads Now LLC, the leading freight matching company catering specifically to the bulk sector, partnered with PC Miler officially last month, enabling the use of the industry-leading software on the site. This means a complete, all-in-one package for shippers, brokers and carriers, enabling them to find loads and run miles all from one site.
According to Jared Flinn, Operating Partner at Bulk Loads Now LLC, "Miles are always calculated by commodity traders before they are created and traded. With the addition of this feature, we're streamlining the process of loading trucks." While Bulk Loads Now has always had ties to PC Miler in load posting details, the addition of this feature brings the company to a new level of innovation for the bulk industry.
Reactions to the PC Miler update have been extremely positive. Art Pfluger, a long time member of Bulk Loads Now, commented on the feature saying, "Being able to quickly obtain accurate mileage figures is a great asset. It is frustrating having to access different sites to find the info I need. This is very easy."
About Bulk Loads Now LLC:
BulkLoadsNow.com is an online community of professionals in North American's bulk freight industry. Our shipper members are transportation logistics managers of grain, fertilizer, aggregates, feed ingredients and all agriculture commodities. Our carrier members pull hopper bottoms, walking floors, end dumps, belts, live floors, pneumatics and liquid tanker trailers. We provide to our members the industry's most innovative bulk freight solutions including an enhanced load board, database of all carriers in North America, instant communication tools, industry forums and news updates, and much more.