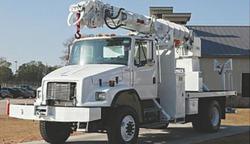 Colona, IL (PRWEB) May 10, 2013
Customers searching for utility trucks now have an easy-to-use website that will help them browse through a large inventory of fully reconditioned bucket trucks and more. I-80 Equipment, a national and international dealer for these fully reconditioned bucket trucks, has launched the latest version of their website. The new look is optimized to help customers easily navigate listings to find the perfect truck to match their business needs.
"We wanted a website that would reflect our expanded product line and be more user friendly. Not only does this give us a new look but it reflects the ways our company is changing. The new I-80 Equipment holds customer service and satisfaction high and we wanted our website to reflect that," says Josh Dimand, Operations and Marketing Director.
Customers can view the new layout at http://www.i80equipment.com. Upon entering the website, viewers will see a breakdown of various categories of utility trucks. Utility truck categories are broken down by type and size to help narrow down the search for particular utility bucket trucks. By clicking on a category customers will be taken to a complete listing of trucks matching their search. Listings include complete details, vivid color photos and live videos of the utility trucks.
From the homepage of the website customers can not only access complete inventory listings but also search for particular trucks. All forms of contact including social networking are available from this page and customers can sign up for email alerts, which will connect them with regular Manager's Specials. There is even a financing calculator to help businesses find out more information about financing options.
I-80 Equipment was established in 2006 and has grown exponentially to become the world's leading dealer in used bucket trucks. I-80 Equipment offers a unique reconditioning process that transforms used utility trucks into like-new (and often better-than-new) condition. They also offer special customization options, giving customers the ability to match a truck to their specific needs.
I-80 Equipment
120 Walnut Lane
Colona, IL 61241
(Toll-Free) 888.949.3701
(Local) 309.949.3701
(Fax) 309.949.3760
(Email) info(at)i80equipment(dot)com