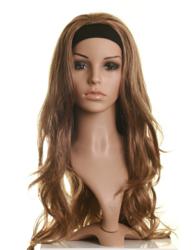 Half Wigs are amazing, they seamlessly blend with you natural hair to give a full volume and glamorous look - perfect for wedding season.
London (PRWEB UK) 13 May 2013
Full volume hair is very on trend at the moment, with TOWIE stars and Cheryl Cole among celebrities with full volume hair. But for everyday women, who don't have stylists on hand, huge budgets, and who can't fit in keratin infused blow dries once a week there is another option - the half wig hairpiece.
A half wig, simply fits over the wearer's own hair (approx 3/4 of the way back from the hairline), and blends seamlessly with the natural hair giving a dramatic transformation, adding volume and length in an instant. What is more, because of the natural qualities of the hair and the seamless blending, no one will ever know that the wearer is faking it.
Wonderland Wigs have seen a significant rise in demand for half wigs (also known as Instant Weaves or hair booster) over the last 12 months. They believe that this is due to an increasing openness by celebrities that aren't afraid to fake it.
The award winning hairpiece retailer have introduced six new styles and colours to their range of instant weaves this week, in an effort to meet demand. Samantha McClements, creative director for Wonderland Wigs says, "We've gone for a longer length of 28 inches, and added more layers and a greater volume. The 6 new hairpieces are simply stunning, they are in really natural shades and will give your hair an amazing effortless instant boost, perfect for wedding season."
If you would like more information on the range of half wigs, or have any further enquiries please don't hesitate to get in touch. You can also browse the full range of hairpieces, extensions, accessories and wigs that are available at http://www.WonderlandWigs.com.