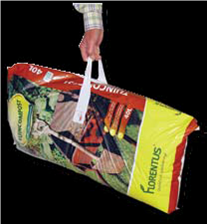 Easy-Take® makes life easier for the user, but it's better for the environment too.
UK (PRWEB UK) 12 May 2013
Easy-Take® labels are the revolution in carrying, which makes lifting or moving large and heavy items much easier.
Carrying large or heavy goods is often impractical and sometimes it can be dangerous. Whether tucked under arms, or held in front of the body on upturned hands, carrying these items forces the subject to adopt bad posture. On top of that, opening doors or loading in and out of cars becomes more difficult, and often require the item to be set down and picked up again.
But with Easy-Take® a simple adhesive handle will allow the user to carry goods up to 25kg in one hand; just as soon as the Easy-Take® has been applied. Thanks to these innovative new products, consumers can carry goods as simply as possible, in the most ergonomically friendly way possible.
A choice of Easy-Take® products is available. The standard Easy-Take® is perfect for large or heavy shopping and deliveries, but sometimes customers need an Easy-Take® which can be removed without any damage to the package. That's why the Easy-Take® Clean has been developed, a carry handle which can be removed without damaging a box or package.
Easy-Take® makes life easier for the user, but it's better for the environment too. Using an Easy-Take® adhesive carry handle allows shoppers to carry their items without plastic carrier bags, which means less need for plastic bags and a better environment besides.
Businesses can purchase plain unprinted Easy-Takes®, or LabelsPlus can print them upto three colours.
Call labelsPlus today on 01663 736 250 for more information on Easy-Take®, and a wide range of other high quality self adhesive labels.