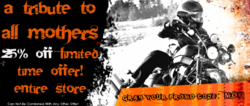 Accessorize your biker leather vest with BikerLeather.com, and save on top grade quality leather vests.
(PRWEB) May 10, 2013
What are biker patches? Biker patches are usually sewn on a vest that's made of top grade quality leather or denim material to represent the biker's group. Bikers wear their patches with honor. Each patch on leather vest can represent a secret meaning and only bikers that belong to the motorcycle club know the meaning. However, patches that BikerLeather.com has on sale are regular patches, and have nothing to do with 1% ers motorcycle clubs.
Biker patches are not limited to the outlaw motorcycle clubs. Riding groups, law enforcement motorcycle clubs also bear patches on their vests. There are some riders that have different patches for different meanings. For example, one patch can stand for taking part in events like Daytona Beach Bike Week, or Sturgis Rally. Another biker might put on a patch when he or she loses someone close to them.
BikerLeather.com wants to help accessorize bikers leather vests. With the overstock option, BikerLeather.com is able to do a sale for bikers with up to 25% of savings. Buying couple motorcycle patches from competitor websites, usually the shipping rates run anywhere from 10$ to 15$. With adding promo code MOM at the checkout, the shipping will be flat rate shipping 7, and the discount will take off 20% of the entire shopping cart. Don't waste any time and shop with BikerLeather.com for your patches, leather apparel, and motorcycle accessories.