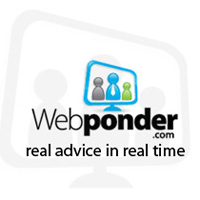 Webponder has attorneys registered in over two dozen states, and in 16 different areas of legal specialty.
New York, New York (PRWEB) May 11, 2013
New York law advice can now be received from a variety of different New York attorneys online at Webponder.com. Webponder.com is a website where visitors go to connect with not only legal professionals for online legal advice, but experts in a variety of fields such as online mechanics, an online doctor, and marketing experts, through live video consultations.
Webponder members can receive free lawyer advice online through a video chat with a New York attorney in the following areas of law: personal injury, family, consumer, real estate, employment, intellectual property, business, criminal and immigration.
Webponder was co-founded by attorney Steve Thompson, a Florida and New Jersey licensed attorney, who saw the need for a quicker, more convenient, and more reliable way to obtain online legal advice from licensed attorneys, rather than relying on random message boards and advice from unknown sources. Webponder was co-founded and designed and developed by Miami web design specialists NetroStar, Inc.
Webponder has attorneys registered in over two dozen states, and in 16 different areas of legal specialty. It's free to join for people seeking advice, and the only price they have to pay is the video consultation rate that each attorney independently chooses themselves, only once they are ready to request a video consultation from a specific attorney. However, many attorneys offer free consultations, similar to customary in person or telephone consultations, in an effort to learn about the potential client's case, and introduce the attorney's services.
Some of the other more popular categories on Webponder.com include the technology, marketing, and financial and business experts. Webponder expert profiles can include a photo, introductory video, video consultation rate sheet, background, professional, educational, and training information, and even articles and videos uploaded to give viewers of a profile a little more in depth look into an expert's knowledge base.
Webponder's goal is to become the "go-to" online presence for getting real-time advice online. Webponder is based out of Miami, Florida and media inquiries for Webponder can be directed to co-founder and Managing Director Steve Thompson at (305) 373-7775.