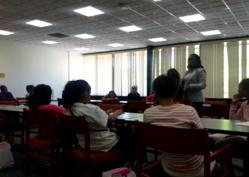 "Allison's workshop, 'It's Cool to be Smart' helped empower the girls to embrace an 'I can do this' mindset as it pertains to STEM (science, technology, engineering and math) programs and their careers"
Rockville, Maryland (PRWEB) May 10, 2013
Amici Communications Announces 5th Every Girl Can™ "Smart Image" Conference a Success: Highlight of the Day Allison Manswell's Presentation: It's Cool to Be Smart
Dynamic speaker and life coach Allison Manswell presented her highly successful 'It's Cool to be Smart' workshop to a room full of young women at the Every Girl Can™ 'Smart Image' conference at Bowie State University last weekend.
"Allison's workshop, 'It's Cool to be Smart' helped empower the girls to embrace an 'I can do this' mindset as it pertains to STEM (science, technology, engineering and math) programs and their careers," said Yasmin Anderson-Smith, President of KYMS Image International, a professional services consulting firm and organizer of the annual Every Girl Can™ 'Smart Image' conference.
The program offers fun, creative, hands-on, learning experiences to educate and inspire girls to become self-confident and develop a strong and positive self-image while building self-esteem, and skills in etiquette, civility, leadership and personal appearance. At least 70 girls from grade 5-8 and about 55 women including 30 presenters, attended the event and Allison was able to convey to these young ladies that there are many different ways to define the word smart. She maintains that we are all smart in different ways - some things just come more natural to us because of our preferences. All "smart" can be learned.
Based on Dr. Howard Gardner's theory of multiple intelligences:
1) We are accustomed to measuring logical/mathematical intelligence.
2) People who are verbally/linguistically smart are the ones who are good with words.
3) People who are good at playing Name That Tune… They are musically smart.
4) The students who are constantly moving around the classroom; the ones we may mislabel as ADD - those students are probably body/kinesthetic smart.
5) Some children are visual/spatial/artistically smart.
6) Interpersonal intelligence is when people are good at relating to other people.
7) Similarly, the people who are very aware of their own feelings and what happens on the inside are intra-personally smart.
8) Some people are naturalistic smart. They understand nature, plants, animals and the agricultural sciences.
Ms. Manswell's years of research and work with clients in the field of behavioral science and human potential made her an excellent candidate to empower and educate the attendees. By breaking down Dr. Howard Gardner's theory of multiple intelligences, Allison helped the young ladies leave with a greater sense of confidence and understanding that they are smart in more ways than one. She shared basic concepts to teach the girls how to master life skills that will keep them safe and create extraordinary results in their lives.
About Allison:
Allison Manswell is a corporate learning executive and dynamic life coach. Her expertise in human resources management includes a combination of curriculum design, facilitation and organizational effectiveness.
Her publications include: "The Champion's Ride: Success Skills from an SUV" – a character-building curriculum to teach life skills and create a road map for student achievement.
She is also the author of "Finding My Peace: Empowering Poetic Essays from the Soul", a collection of life lessons written in poetry.
Her latest project is a life coaching card game called "Every Diva Needs to Know". This creative coaching tool is perfect for stimulating self-awareness in a fun environment.
For more information on Allison's approach and products visit her site: http://www.allisonmanswell.com or follow her on Twitter @allisonmanswell.