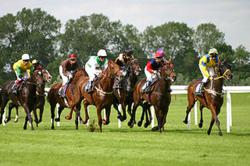 All in all, Orb seems to have the best cards, but it's going to be CLOSE.
Langhorne, PA (PRWEB) May 13, 2013
The odds are already stacked in Orb's favor. After his stellar performance in the Kentucky Derby, Orb is leading the charge not just in Preakness predictions but also in speculations about a possible Triple Crown.
It may not be surprising, then, that when 29 professional psychics at Hollywood Psychics, the popular psychic service provider, were recently surveyed about the upcoming event at Baltimore's Pimlico Race Course, Orb came out ahead. Nearly 40% of the online psychics surveyed predicted he would win.
Echoing what seems to be the general sentiment, psychic Rosco Damen said: "Orb looked great during the Derby even after being spooked the day before as well as a sloppy track. The Preakness should be a win."
Nevertheless, a not insignificant number of psychics predicted wins for Goldencents (17%), Oxbow (14%) and Will Take Charge (10%). Just one of the psychics would put her money on Departing.
So how heavily should one weigh these psychic predictions as compared with any others? It's anyone's bet whether cards and intuition are more accurate than statistical or historical analysis. And as the survey showed, one psychic's cards can point to one outcome while another psychic's intuition can predict something else entirely.
It's probably safe to wager that every bet placed on a horse is based on countless, often intangible factors. Yet as anyone interested in horse racing would agree, and as psychic Mari succinctly put it: "Mostly I just hope they all have a safe race."
****
About Hollywood Psychics:
Hollywood Psychics is an established provider of psychic readings by phone and online chat, appealing to a young professional demographic. Hollywood Psychics experts specialize in astrology, horoscopes, numerology, tarot cards, clairvoyant readings, and many other psychic disciplines. Hollywood Psychics believes in its community of authentic psychics and stands behind the authentic psychic readings they deliver to clients. Visit them online at http://www.hollywoodpsychics.com.
For more information, contact:
Maryanne Fiedler, Marketing Director
maryanne(at)hollywoodpsychics(dot)com
215-953-8568