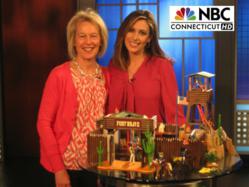 ...this is fantastic – I always learn so much from your observations ... you have such a gift for dredging out all the meaty learning opportunities a game contains!
(PRWEB) May 15, 2013
Play On Words LLC, led by highly respected speech language pathologist Sherry Artemenko, announces 2013's Spring PAL (Play Advances Language) Winners. This recognition is the toy industry's only program directed by a credentialed speech-language expert recognizing the language learning edge in exceptional toys, games and books. Distinguished by unique design, quality and character, these PAL winners can generate rich play that advances language. Sherry's 35 years of child development experience with over 15,000 hours working with kids empower her PAL selections, popular blog, private practice and media appearances.
http://playonwords.com/in_the_media/
"I'm excited to see companies taking a closer look at their products to find the language learning potential for ALL kids to play together, while making it easier for parents by listing their toy's skills on the packaging or in learning guides in the box. Manufacturers are valuing my advice on how to use their toys to maximize learning, 'We can't wait to see what you think!' The PAL seal, awarded to global enterprises and start-ups alike, differentiates the companies who know the marketplace now demands products that are not only fun, but educational. The PAL Award seal says just that."
Spring 2013 Play Advances Language (PAL) Award Winners listed by language learning category:
http://playonwords.com/award/
EARLY DEVELOPMENT: Sherry's daily experience in pediatric speech therapy gives her an eye for the best products to build attention, vocabulary, and concepts through play, preparing children for their first sounds, words and sentences. From stacking and squirting pals to pulling a circus train, kids learn essential language skills.

Babipouce Pink Cotton Flower by Corolle
Bobo Buddy by R.E. Baby Products, Inc.
Elf Grenadine's Heart by Corolle
My First Play World Farm: Stacking Cubes by HABA
My First Puzzles Garden Animals by Ravensburger
My Nature Pals Stroll by Tiny Love
Racing Round Stacking Pyramid by Janod
Sneaky, Snacky Squirrel Game! by Educational Insights
Softimals Safari Set by Infinitoy, Inc.
Splash 'n Slide Waterpark Wonder by B kids
Stack 'n Squirt Pals by B kids
Story Circus Baby Train by Janod
Toddler Build And Play Cubes by Lego
LANGUAGE STRUCTURE: These outstanding products can build language structure, often teaching vocabulary, concepts or grammar while delivering fun. Predicting and drawing conclusions from a science experiment, learning position words while searching for "Sunshine," or using the language of math to defeat Ninja Turtle enemies, all strengthen communication.
Animal Soup The Mixed-Up Animal Board Game! by The Haywire Group
Bear In Underwear Backpack Adventure Board Game! by The Haywire Group
Being Frank by Donna W. Earnhardt and Andrea Castellani
Clifford Science Series by The Young Scientists Club
Frog Wobble by MindWare
Green by Laura Vaccaro Seeger
Hello Sunshine! by Thinkfun
Magnetibook 4 Seasons by Janod
On The Farm Who's In The Barnyard? by Ravensburger
PicWits! by MindWare
Qualities by SimplyFun
Red Cat Blue Cat by Jenni Desmond
Rhyme Out: The Triple Rhyming Game by Educational Insights
Teenage Mutant Ninja Turtles Clash Alley Strategy Game by Wonder Forge
The Ant and the Grasshopper by Rebecca Emberley and Ed Emberley
What's It? By Peaceable Kingdom
Wummelbox by Wummelbox
PRE (READING): Searching for a word written in the round, spinning the alphabet with associated pictures or listening to an early reader popping up tall and high, children can pick up essential skills to promote reading.
ABC Puzzle And Book: My First Puzzle Book by Tiger Tales
Alphabet A-Z by Plan Toys
Block Crayon 3-in-1 Activity Table by Wooky Entertainment
Loco Lingo Kindergarten by HABA
Pig Has a Plan by Ethan Long
See 'n Spin Alphabet Rack by B kids
Up! Tall! And High! by Ethan Long
WordARound by Thinkfun
STORY-TELLING/ PRETEND PLAY: Whether protecting Fort Brave from the outlaws, engaging in realistic puppet play, or taking the ferry boat out for a sail, children enter the world of pretend, creating their own stories with plenty of flexible props to guide their imagination. Oral story-telling precedes writing as kids learn the steps to create a good narrative.
A Home For Bird by Philip C. Stead
Alpaca Puppet by Folkmanis, Inc.
Artzooka! Cupcake Creations by Wooky Entertainment
Artzooka! Recycle Sticker Creations by Wooky Entertainment
Artzooka! Surprise Match Boxes by Wooky Entertainment
Bebe Bath and Accessories By Corolle
Bible Toys Prayer Bear
Easy Turn Coupe by Step2
Fairy Tale Blocks by Plan Toys
Ferry Boat by Green Toys
Fire Engine by Plan Toys
Fixin' Fun Outdoor Grill by Step2
Friends Heartlake City Pool by Lego
HABA Puppet Theater
Imagine i CAN Feel Better MD by Manhattan Toy
Imagine i Can Pirate Treasures by Manhattan Toy
Leopard Shark Puppet by Folkmanis, Inc.
Little Hedgehog Puppet by Folkmanis, Inc.
My 1st Career Gear Zookeeper by Aeromax Inc.
My Little Nenuco Travel With Me by Famosa
Parking Garage by Plan Toys
Pinypon Fairies by Famosa
Playmobil 1.2.3 Take Along Barn
Playmobil 1.2.3 Take Along Fire Station
Playmobil Native American Camp With Totem Pole
Playmobil Western Fort
Rocket by Green Toys
Sky Dragon Puppet by Folkmanis, Inc.
SmartMax Flower Palace by Smart Toys and Games, Inc.
Tractor by Green Toys
WOW's Sammy Sea Patrol by Ravensburger
SOCIAL LANGUAGE: Pairing closely with pretend play, social language blossoms when children play with toys that encourage extended social interactions. Working cooperatively to follow the instructions of a magic move wand, or racing mice to capture a huge chunk of cheese before the cat stops them promotes one-on-one interaction.
Magic Moves Electronic Wand by Educational Insights
Lilliputiens' Ophelie And Her Chicks by HABA
Penguin And Pinecone by Salina Yoon
Puppet on-a-Stick by Educational Insights
SQUIGGLE On-The-Go by Randomline, Inc.
Super Sized Floor Puzzle USA Map by Ravensburger
The Great Cheese Chase by Peaceable Kingdom
Congratulations to our PAL Winners who are listening to their markets and delivering a powerful value proposition, namely, great language learning paired with play.
To see all Playonwords PAL Award winners, go to:
http://playonwords.com/award/