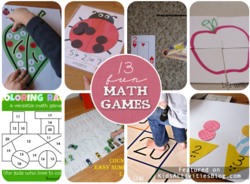 Ready, set, go! Play a cool race car game that sneaks in math.
Dallas, TX (PRWEB) May 10, 2013
Finish strong in math before summer break with cool math games and counting games featured on Kids Activities Blog.
The fun math games are bound to get the kids' attention while they are simply having a good time. The games include going on a pretend shopping trip with play money, creating a DIY measurement tool to find out the sizes of family members, matching lady bug wings that teach how to add, creating a math muncher to learn greater than and lesser than and making a DIY number book.
Other fun math game ideas include a cool race car game to teach number recognition and an apple game to learn fractions.
A fun DIY counting game played with ping pong balls and beans will be the kids' favorite game for days. Simply write numbers on a set of ping pong balls and let them try to throw them into an empty container. The beans will serve as counters throughout the game. Variations on the game can be played according to the child's age.
For detailed instructions and to get additional fun math teaching ideas, check out Kids Activities Blog this week. Come get inspired to let the kids have some fun time playing math games that sneak in lots of learning.
About Kids Activities Blog
Kids Activities Blog is a website created by two moms (who collectively have 9 children), Rachel Miller and Holly Homer from June Cleaver Nirvana. It is their daily goal to inspire parents and teachers to play with kids. This interactive website publishes simple things to do with kids twice a day. Kids Activities Blog is a great tool for moms and teachers to find kid-friendly activities that create memories and sneak learning into the fun.