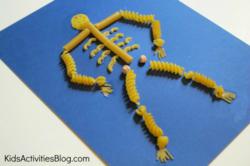 Take the worries before a doctor's visit by making cool human body crafts and doctor kits.
Dallas, Texas (PRWEB) May 11, 2013
An out-of-the box teaching idea about the human body together with a DIY pretend play doctor kit has been released on Kids Activities Blog. Both crafts are perfect to ease the worries before a doctor's visit and teach important health lessons that will be valuable for years to come.
The creative ideas include a skeleton craft either out of pasta or cotton swabs, a DIY doctor's bag craft, a DIY doctor headband, and a pretend play doctor kit.
Materials needed to make the skeleton craft are either pasta or cotton swabs, a piece of construction paper, markers, white paper, and lots of glue. With the cotton swabs or pasta create a human skeleton according to the template provided on Kids Activities Blog. The kids will have a blast when they glue the skeleton piece by piece and will be amazed at the awesome looking skeleton.
Making the doctor kit is simple. Cut black, white, and red construction paper according to the instructions on Kids Activities Blog. Add medical supplies such as cotton balls, cotton swabs, and a band aid and finished in the cute doctor bag.
To make a fun pretend play DIY doctor's kit, gather empty pill boxes, bandages, cotton swabs, infant syringe and thermometer, craft stick, disposable gloves, and many more little items found around the house. Place all items inside a cosmetic bag and ready is the fun and educational doctor play kit.
For detailed instructions and to get additional creative human body and doctor play ideas, check out Kids Activities Blog this week. Come get inspired to ease any doctor visit fears.
About Kids Activities Blog
Kids Activities Blog is a website created by two moms (who collectively have 9 children), Rachel Miller and Holly Homer from June Cleaver Nirvana. It is their daily goal to inspire parents and teachers to play with kids. This interactive website publishes simple things to do with kids twice a day. Kids Activities Blog is a great tool for moms and teachers to find kid-friendly activities that create memories and sneak learning into the fun.