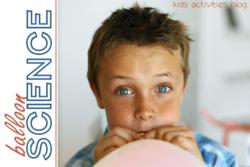 Let the kids discover new scientific horizons with simple experiments at home.
Dallas, Texas (PRWEB) May 12, 2013
Spark scientific curiosity with static electricity experiments for kids. Kids Activities Blog answers the question what is static electricity in a simple way that even kids are able to understand the scientific reasons behind static.
A simple balloon experiment will do the trick in sparking new interest in the wonderful world of science. Kids will love to discover what it is all about with electrons.
Basically, electrons move around from atom to atom and object to object. When there is an excess amount of electrons, there is a negative charge. The extra electrons will move to an object with with a lessor or opposite charge. Kids can even hear a pop when the electrons move and may even see a spark. They will even feel a shock when the charge is neutralized.
To amaze the kids gather a couple of balloons, a sweater, assorted materials such as tissue paper, foam, aluminum foil, cardboard scrap, ribbons, pom poms and other materials. These will be used to stick to the balloon during the experiment.
Blow up the balloons and touch them against each gathered object. Let the kids observe that nothing happens. Then rub the balloon against the sweater and repeat. Now, the kids can observe that magically the materials will stick to the balloon. Even try running water down the charged balloon and observe what happens.
For detailed instructions and to get additional fun scientific experiments, check out Kids Activities Blog this week. Come get inspired to spark the kids' scientific minds.
About Kids Activities Blog
Kids Activities Blog is a website created by two moms (who collectively have 9 children), Rachel Miller and Holly Homer from June Cleaver Nirvana. It is their daily goal to inspire parents and teachers to play with kids. This interactive website publishes simple things to do with kids twice a day. Kids Activities Blog is a great tool for moms and teachers to find kid-friendly activities that create memories and sneak learning into the fun.