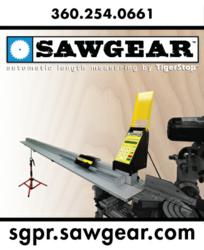 There's a housing shortage as you read this.
Vancouver, Washington (PRWEB) May 23, 2013
While the price of framing remains highly competitive, will framing crews have the tools and skilled craftsmen to lead the pack? Is meeting ever increasing quality and lead time demands, coupled with a lack of top-notched framers, going to handicap them? Will ever narrower margins eat into profits, just as the markets look to be turning around?
Take a look at a tool that can cut time, increase quality and allow semi and unskilled workers to perform like the sites best guys. The housing boom is just beyond the horizon! TigerStop, the industry leader in automated stop/ gauge and pusher systems, never gave up or lost sight of this. For the past six years, countless man hours have gone into developing and updating SawGear.
SawGear is a system that not only increases productivity of workers on the jobsite; it also significantly improves the quality of the build. SawGear brings framing and contracting crews automatic length measurement to the field in a small and mobile yet rugged and jobsite-ready package. The ability to simply punch in a number and have a stop automatically go to that precise dimension gives the user time back. This is critical in the competitive market, especially with the increasing amount of bids we'll see with the housing spike. SawGear attaches to existing saws with ease and allows for streamlined cut operations on the construction site.
Contractors know that building a structure relies on every one of its components. Further, each of these components is affected by the other. If the foundation is not level or set appropriately, the structural rigidity of the whole build will be jeopardized. That's why they make sure to do it right the first time. So why would they overlook the other most important component of the build, framing? If one piece of stock is cut to an inappropriate dimension, all those thereafter will be incorrect. This jeopardizes the quality of the build. Not to mention the extra time that will have to be allotted to rework alone. TigerStop recognized this problem and delivered SawGear to put a stop to it.
SawGear has cut list storage for repetitive jobs or when working on identical units. Crown+MiterPro is a revolutionary feature that takes the pain out of cutting crown molding and makes casing windows and doors a snap. SawGear Tables let contractors set up shop anywhere. They are easily assembled and broken down to keep up with the fast pace of the contracting business.
There's a housing shortage as you read this. Starter homes are in high demand as young adults are now finding themselves with jobs. There are more young adults living at home than during the great depression. Do the math; put down the magazine, close the web browser, whatever you need to do! Don't be caught off guard. SawGear intends to help win the job, time and time again.
About TigerStop
TigerStop, LLC is the global leader in automated stop/gauge and pusher systems. TigerStop, headquartered in Washington State, is a U.S. manufacturer of products for the furniture, cabinet, electronics, plastics and metalworking industries. TigerStop's equipment easily integrates with any tool requiring accurate lineal positioning of materials, turning a standard manual shop into an automatic lean production machine. To view SawGear videos and testimonials or request a quote, please visit sgpr.sawgear.com. To learn more about TigerStop's products and services, and how they can maximize production capabilities, contact them at 360.254.0661, or visit TigerStop's website at sgpr.tigerstop.com.
TigerStop LLC
360.254.0661
sgpr.sawgear.com
sgpr.tigerstop.com