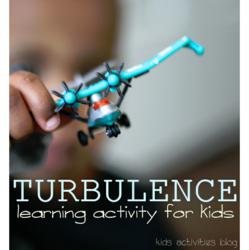 Let the kids see and feel turbulence to ease their fear during the airplane ride.
Dallas, Texas (PRWEB) May 15, 2013
Travel season is just around the corner. Turbulence on a plane explained with jello can ease the fear of flying and help families during the busy travel season. Before kids embark on a plane journey, explain how turbulence affects the aircraft to help the kids be less stressed during the airplane ride. The may be happy to even explain turbulence to fellow airplane travelers after this fun experiment.
The science experiment not only helps kids see and feel turbulence by it is simply a lot of fun, too. Materials needed are a toy airplane, that has been washed, a few boxes of yellow jello, a large bowl, and a baking tray. Please note that the project takes some time, since the Jello has to settle firmly.
Prepare about half of the Jello in a bowl. Let the Jello settle about halfway so that it barely can hold up a toy airplane in the center of the bowl. It is important that the airplane is put upside down in the semi firm Jello. Prepare the other Jello half and pour on top of the airplane. Let the Jello settle firmly in the refrigerator according to the instructions on the Jello package.
Once the Jello has settled, loosen the sides of the Jello by putting the bowl into warm water. Put the bowl upside down onto a baking tray. No begins the fun science lesson.
At very high speeds, air become very thick. Seeing an airplane move through thick air, is like seeing an airplane move through Jello. If the nose of the aircraft is tilted upward, the airplane will move up and if it is tilted downward the aircraft will move down. Use skewers to let the kids push gently the toy airplane inside the Jello.
Tapping on top of the Jello bounces the airplane up and down. This is turbulence. The airplane cannot fall, in fact, it barely moves at all. The Jello holds the airplane firmly in place, just as the aircraft is held in place in the thick air.
For detailed instructions and to get additional tips about flying, check out Kids Activities Blog this week. Come get inspired to ease the fear of flying and have happy kids on an airplane that may even explain to fellow travelers what turbulence is really all about.
About Kids Activities Blog
Kids Activities Blog is a website created by two moms (who collectively have 9 children), Rachel Miller and Holly Homer from June Cleaver Nirvana. It is their daily goal to inspire parents and teachers to play with kids. This interactive website publishes simple things to do with kids twice a day. Kids Activities Blog is a great tool for moms and teachers to find kid-friendly activities that create memories and sneak learning into the fun.