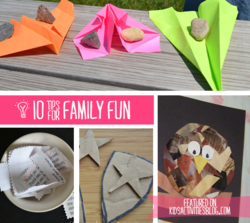 Have an old fashioned paper airplane race with the kids today.
Dallas, TX (PRWEB) May 16, 2013
Creating fond childhood memories is what it is all about on Kids Activities Blog. Creative family fun ideas and funny games are a perfect way to bond as a family and to create lasting memories. Letting loose and having a little fun is what kids need and adults, too.
The 10 tips for family fun include having paper airplane races, playing pretend police station in the yard by handing out badges and case files to let the kids solve the crime, and having a friendly competition in the yard by hosting the annual family olympics. Let the kids and adults draw flags to represent themselves rather than countries and set up disc toss and race stations.
Exploring the world activities, painting dandelions with straws, making collage owls, and going on a counting walk are lots of fun and are perfect for family bonding.
Funny game ideas include singing all types of silly songs. The song game ideas are for all ages and will delight babies as well as rock teenagers. The ideas include tips for playing song games with babies, singing silly nursery rhyme songs, playing all sorts of pretend song games including radio games and top 40 games.
For detailed instructions and to get additional fun family tips, check out Kids Activities Blog this week. Come get inspired to create fond family memories for years to come.
About Kids Activities Blog
Kids Activities Blog is a website created by two moms (who collectively have 9 children), Rachel Miller and Holly Homer from June Cleaver Nirvana. It is their daily goal to inspire parents and teachers to play with kids. This interactive website publishes simple things to do with kids twice a day. Kids Activities Blog is a great tool for moms and teachers to find kid-friendly activities that create memories and sneak learning into the fun.