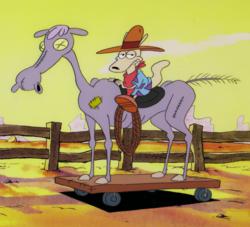 "There aren't very many opportunities to be mentored by someone who has culturally changed the world for the better through artistic expression and a willingness to elevate and teach others."

- Richard Hill- Former student and founder of Froguts
Los Angeles, CA (PRWEB) May 12, 2013
Rocko's Modern Life and Camp Lazlo animated series creator Joe Murray is spending this summer teaching what he knows best: Creating eccentric characters, strong story hooks and wildly bizarre cartoons. Through his online classroom at http://www.joemurraymasterclass.com, Joe will spend 12 weeks with a limited number of lucky students wanting to pick his brain and become the next wave of cartoon creators.
Hailed as one of the most innovative and successful animation show creators of our time, Joe Murray created the highly successful and award-winning icon animated series of the 1990's, Rocko's Modern Life, airing on Nickelodeon, and Camp Lazlo for Cartoon Network. Both animated series went on to garner high international accolades, including two prime time Emmy's for Camp Lazlo, overtaking such competition as South Park and Spongebob Squarepants.
With a Rocko's Modern Life revival partly due to the wildly successful DVD release of the entire episode box set from Shout Factory, and Joe's top selling book from Random House "Creating Animated Cartoons with Character," Joe Murray's online classes will become a must for any would be animator or future cartoon creator. Online lectures and options for personal skype sessions with Murray himself round out this rare and once only offering.
To learn more, go to http://www.joemurraymasterclass.com