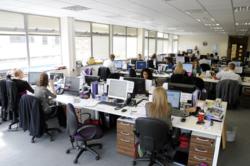 A West Midlands based business is bucking the economic trend by opening a new division dedicated to recruiting staff for special education needs (SEN) schools.
(PRWEB UK) 11 May 2013
During the academic year of 2011/2012, Birmingham LEA special needs schools spent just over 1 million pounds on temporary staff alone. Aspire People, an education recruitment agency, is looking to join a small selection of recruitment agencies that focus special needs recruitment.
Michaela Powell, owner and managing director of Aspire People said: "Our business has had huge success across Birmingham. At the moment we are working with 203 Birmingham primary and secondary schools alone, with 8 recruitment consultants placing teaching, office and technical support staff in to Birmingham schools. We spent the last 3 years researching and planning the launch of an SEN division for Birmingham LEA but we couldn't find the right SEN recruitment specialist to put the plan in to action."
"It's obviously a difficult time for the majority of businesses but we are doing well. Currently, there are only really 3 agencies really specialising in SEN recruitment in Birmingham. There is a definite gap in the market for a special needs recruitment agency that provides passionate SEN professionals at a fair cost. Aspire People joining this market will l give schools and workers more choice. We don't do things by halves and wanted to make sure we had the right person and database of candidates before setting up the division" Mrs Powell said.
SEN recruitment specialist, Lee Lamburn, joined Aspire People to spearhead the company's SEN division forward. Lee said: "There are so many reasons why I joined Aspire People, apart from it being the best recruitment agency in the Midlands! It is a very fun and dynamic company but genuinely principled. It did win Birmingham's Best Business for Work-Life Balance three times in a row, testimony to the flexibility I will need for raising my family. What really sealed it was Michaela's passion to provide a honest and high quality customer service, not just to schools but candidates as well, who are seen as part of a team not a number."
"Initially I will be sourcing Birmingham SEN teaching jobs and Birmingham SEN teaching assistant jobs, with the view to break out in to the rest of the West Midlands next year."
Lee joined Aspire People with 3 years recruitment experience, after working for another supply teaching agency, Teacher Active. His experience consists of recruiting a whole range of SEN education professionals to schools across the Midlands.
Cherie-Anne Baxter, Head of Marketing and Communications at Aspire People added: "We recognise how different special needs schools operate. This is why we have waited so long for an experienced SEN specialist that has the same principles and approach to recruitment as Aspire People. It was like finding a needle in a haystack. Now we can offer a whole new range of exciting job opportunities to the Birmingham education sector. We offer so much support and training to our teaching and non-teaching team, SEN schools will be able to work with talented and motivated staff. Along with a bank of temporary SEN professionals, schools will also be able to source SEN teachers and SEN TAs for permanent and long-term jobs in their school – all at a price that is a lot more affordable that the market already offers."
Aspire People, established by Michaela Powell in 2005, operates out of Gracechurch Shopping Centre in Sutton Coldfield. The business specialises in education recruitment, helping the local community source primary teaching jobs, secondary teaching jobs, SEN teaching jobs and school office and technical support jobs across the whole of the Midlands.