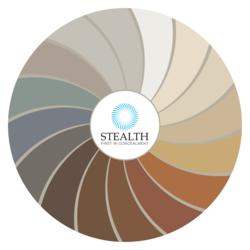 'We've learned that matching a brick red based on a phone conversation is an exercise in futility." Sean McLernon, CEO of STEALTH
Charleston, SC (PRWEB) May 13, 2013
One man's "blue" is another man's "slate."
That's a truism learned through the years by the folks at STEALTH, the leader in wireless antenna concealment. As proponents of concealment that blends with its surrounding, STEALTH has an on-staff artist and others responsible for matching colors, textures and tones to blend RF-transparent panels with existing on-site materials.
"Over the years, we learned that matching a brick red based on a phone conversation is an exercise in futility," said Sean McLernon, STEALTH CEO.
That's when STEALTH's artist, Elizabeth McKeever, got to work on a new tool to take the guesswork out of matching. SPOT (Sample Process One Time), is a user-friendly disk with instructions designed to help folks in the field assess existing color palates and communicate them back to STEALTH's design team.
SPOT is available to anyone in the industry with an interest in improving aesthetics. "One thing we believe is that leaders lead. If SPOT helps our team hit the mark the first time, or helps our competitors elevate the world of concealment, we're for it," McLernon said.
SPOT can be ordered at 800-755-0689 or at SPOT(at)stealthsite(dot)com. The system is supported by a video (http://www.stealthconcealment.com/videos/featured-video/) that spells out the nine steps involved in going from "it sort of matches" to "what concealment?"
STEALTH Concealment Solutions was founded in 1992, and was the first U.S. company to engineer and construct antenna concealments for the wireless industry. The company has full manufacturing capabilities as well as a nationwide sales network. From rooftop concealments and flagpoles to steeples and towers, STEALTH has experience making every type of concealment and excels at finding solutions for difficult sites. The company's proprietary StealthSkin™ technology allows signals to pass through the concealment with minimal loss. Today, STEALTH spearheads more than 750 concealment projects nationwide per year for all wireless carriers.
STEALTH has been honored by the Charleston Metro Chamber and the Tower Technology Summit. The company's work has been featured in RCR Wireless, TIME Magazine, the Los Angeles Times, CBS, AGL magazine and on About.com.
For more information, or to get your copy of SPOT, call 800-755-0689.