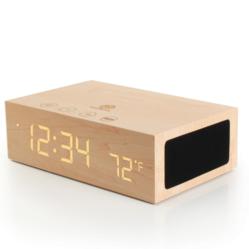 Westlake Village, CA (PRWEB) May 10, 2013
Accessory Power releases its flagship alarm clock to the GOgroove brand: the BlueSYNC TYM. This product marks the first effort for the brand in the alarm clock market, but it remains true to the GOgroove motto since it is a Bluetooth device fueled by latest smartphone technologies. The wooden casing of the BlueSYNC TYM, however, is what truly gives this product its distinctive look and potential to attract notice in a crowded market.
GOgroove, the digital entertainment brand of Accessory Power, is known for its FM transmitters, Bluetooth speakers and wireless earbuds. The GOgroove BlueSYNC TYM (pronounced "time") fits within the theme of the brand as it is a Bluetooth speaker – users can stream music from their Bluetooth device from up to 30 feet away. As a multi-functional device, the TYM is an alarm clock, it has a weather sensor to display the temperature and there is also a 3.5mm port to play audio from non-wireless devices. It is powered with an included AC adapter.
Over the past three months, Accessory Power has developed its "alarm clock" section; an area that has not been touched in the past. The Bluetooth alarm clock is the first of its kind, but is the third clock introduced by Accessory Power in 2013.The other two clocks – the Memo Clock and Weather Clock – are part of the ENHANCE brand, a selection of accessories that are used to improve or "enhance" the quality of every-day devices. Both were unveiled during the International Consumer Electronics Show or CES in Las Vegas in January 2013.
The Memo Clock is a blue LED alarm clock that has a glowing memo board. It is operated via USB. There are also four USB ports manufactured onto the back of the device to plug in headsets, keyboards, mice and more. There is also a birthday reminder feature. The Weather Clock has a 24-hour weather forecasting alarm clock. It has a Barometric sensor to tell the indoor and outdoor temperature and it displays the date. It is powered with three AAA batteries or the included AC adapter.
The wooden-paneled design of the GOgroove BlueSYNC TYM has allowed Accessory Power to showcase its creativity and innovation. An alarm clock is a daily device, but adding a new look and feel has made this clock a leading-edge tech-gadget. The Muscleman of Technology, Bruce Pechman, displayed this during his segment on KUSI's Good Morning San Diego on May 9th 2013.
For more information on the GOgroove BlueSYNC TYM and Accessory Power, visit http://www.accessorypower.com.
###
Accessory Power is an American-based manufacturing and distribution company, with offices in USA, Asia and Europe. Since 1980, Accessory Power has been dedicated to manufacturing quality consumer electronic accessories. An important distinction that characterizes this company is an unrelenting commitment to quality in each step of a product's life; every product is backed by an industry-leading three-year warranty. Accessory Power is proud to say that they are, "The Power Behind Your Electronics!