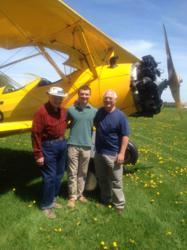 "I've been flying in this airplane since I was a baby and it meant a lot to me that Grandpa let me fly it for my solo." - Cormac Siegfried, 17
(PRWEB) May 12, 2013
Cormac Siegfried, 17, of Palo Alto, CA, made his first solo flight in a powered aircraft on Sunday, May 5, at Clow Airport in Bolingbrook, IL, in a Boeing Stearman PT 17 historic World War II trainer as his father/flight instructor observed from the ground. He performed three take-offs and landings in the historic airplane owned by his grandfather and aviator Robert (Old Bob) Siegfried. Cormac made his first solo flight in a glider on his 14th birthday, March 8, 2010, and was anxious to make his powered solo flight in his grandfather's Stearman.
"I've been flying in this airplane since I was a baby and it meant a lot to me that Grandpa let me fly it for my solo," said Cormac. "I love that airplane!"
The Siegfrieds have a long history in aviation. Old Bob started flying in 1946 at the Mt. Hawley airport in Peoria, IL. He became a flight instructor in 1949 and was hired by United Airlines as a pilot in 1951. He captained every airplane United flew until he retired in 1989. Today he flies his Beechcraft V-35B Bonanza and his Stearman. He taught all five of his children to fly airplanes and three of them are active pilots today: Robert W. Siegfried, II flies his Beechcraft S-35 Bonanza; Richard W. Siegfried flies his AT6 World War II trainer and is a captain with United Airlines on the Boeing 747. Rand Siegfried, Cormac's father and flight instructor, flies his Beechcraft Model E-18S (Twin Beech), the 1929 Ford TriMotor for the EAA and his daughter's (McKinley Siegfried, 21) Legend Cub they built together. McKinley is also a private pilot.
"It was a beautiful day and he was ready to go. I climbed out of the airplane and told him to do what he knew how to do," Rand said. "He did an excellent job. I'm very proud of him."
The Siegfried family is very active with EAA and attends AirVenture, Oshkosh, WI, every year participating in Bonanzas to Oshkosh and War Birds of America. Rand is an EAA board member emeritus and Richard is past president of War Birds of America. Rand and Cormac live in Palo Alto, CA with Andrea Cunningham, Cormac's mother, and McKinley Siegfried, Cormac's sister. Cormac will be a senior at Lydian Academy in Menlo Park, CA and attends Foothill College in Los Altos Hills, CA.