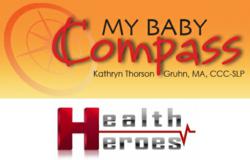 Matthews, NC (PRWEB) May 14, 2013
My Baby Compass announced today that they will be featured in an upcoming episode of Health Heroes, slated to air later this year via the Discovery Channel.
This episode of Health Heroes will feature My Baby Compass, a parent tested, professionally recommended program that helps children think, speak, move, and thrive. Viewers will learn about My Baby Compass' three phase program; Birth to Two, Two to Four, and Four to Seven, which thoroughly covers identification of skills and activities in the areas of speech, hearing, physical development, cognition, social/emotional, and vision. Audiences will be amazed by the program's ability to guide children toward the right track of development.
"We are thrilled and honored that Health Heroes will feature My Baby Compass. My Baby Compass thrives to give parents and caregivers the best information in a convenient program that empowers parents to be able to know what the professionals know about child development," noted Kathy Gruhn, author and creator of My Baby Compass program series.
"This program is unlike anything I've ever seen before," said Michele Nehls, producer for the Health Heroes series. "Health Heroes is excited to share this with our viewers and hope it will bring peace of mind to parents dealing with development issues."
About My Baby Compass:
My Baby Compass –A series of books divided into three age groups – Birth to Two, Two to Four, and Four to Seven –allows parents and caregivers to unlock the mystery of their child's development. My Baby Compass' detailed checklists helps parents assess a child's progress through these important milestones. My Baby Compass also serves as a guide for communication between parents and a child's health care provider, offering the opportunity to obtain early intervention – a process of assessment and support that has been proven to increase a child's chances of success – in the case of a developmental delay, such as Autism or a speech and language delay. My Baby Compass is designed to complement a parent's intuition, providing a wealth of practical information that will allow parents to stimulate a child's growth and development in a tangible way.
About Kathy Gruhn:
Kathy Gruhn brings 35 years of child development experience to the creation the My Baby Compass series. Holding both bachelors and masters degrees in speech and language pathology and a certification from the Amercian Speech and Hearing Association (ASHA), Kathy's educational background is extensive. Yet, her diverse clinical experience working with both children and adults in hospital, school and home health care settings is what truly impassioned her to develop the My Baby Compass program.
For more information, visit: http://www.mybabycompass.com.
About Health Heroes:
Health Heroes is a powerful TV series dedicated to defining and exploring today's latest medical advances in all areas of health and wellness. Written with both the industry professional and television audience in mind, Health Heroes educates, entertains and enlightens the lives of our viewers.
For more information visit: http://www.dmgproductions.org or call (866) 496-4065.
About DMG Productions:
The DMG production team consists of producers, cameramen and editors that have worked for CNN, TLC, Discovery, and other major news and cable networks. Our staff includes personnel specialized in various fields from agriculture to medicine, independent films to regional news. Our field producers utilize the core concepts from our producers who storyboard our programs, and work closely with experts in the field to develop the educational programs. This powerful force enables us to consistently produce commercial-free, educational programming that both viewers and networks depend on.
Media Contact:
Michele Nehls, Senior Producer
(866) 496-4065 x 822