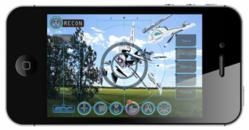 "We think this is the next step - literally - in mobile gaming." - Corey King, Chief Executive Artist of ZenFri Inc.
Winnipeg, Manitoba, Canada (PRWEB) May 15, 2013
Corey King, the 27-year-old "Chief Executive Artist" of Canadian start-up ZenFri Inc., is developing a video game for smart phones he thinks might parents might like as much as their kids—because they can play it outside instead of spending hours on the couch.
King has launched a Kickstarter fundraising drive to help him finish "Clandestine: Anomaly", a science fiction adventure video game where the player is enlisted by a secret agency that is trying to protect the earth from an alien invasion.
The twist? The invasion can happen anywhere—no matter where on earth the player lives. Only they have the technology to see the aliens and fight them off with their smartphone—right on location.
Using a smartphone's GPS and a technology called "geolocative augmented reality" the game lets players collect "nanobots" see aliens, ships and battles and interact with 3D characters as if they are right there in front of the player.
Parents will be able to set the limits of the game on a map, so they don't have to worry about kids running into the street.
"Part of the idea is that you could have an epic science fiction adventure game, with a story, and characters like you would have on a console or PC, but instead of you sitting there pretending to be on a spaceship, you're out in your neighbourhood and the spaceship comes to you," said King. "So you get the full experience of a video game, but it really feels like it's happening because it's right in your back yard."
He needs to raise $50,000 dollars by June 6—and has already raised more than $2,500. Donations start as low as $1, although most have been in the $39 range. The higher your donation, the more donors get.
A lot of the rewards have augmented reality built in, which are visible with a free "viewer app" for the phone—shirts with AR animations, maps that turn into video screens. Bigger ticket donors can even place a virtual "augmented reality colossus"—a huge virtual statue of themselves in New York City, Tokyo, Paris, or Toronto. (See some of the AR rewards on YouTube here: http://www.youtube.com/watch?v=svnVnYPc50g)
"This is a game where every game is different, because each game changes depending on where in the world you are," said King. "We think this is the next step—literally—in mobile gaming."
Clandestine Anomaly's Kickstarter page shows videos of the game's technology, rewards, and concept art. They hope to have the game's first chapter ready for release next April.
http://www.kickstarter.com/projects/555266329/clandestine-anomaly.