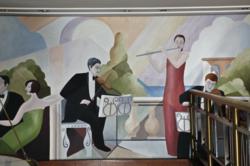 Great Neck and Long Island, NY (PRWEB) May 11, 2013
With the release of the movie The Great Gatsby (2013) starring Leonardo DiCaprio, all eyes seem to be on Long Island as a tourism destination, particularly the Gold Coast and the various attractions that are indicative of the glamorous Jazz Age of the Roaring Twenties. Although F. Scott Fitzgerald's 1925 publication of The Great Gatsby, which is regarded as a Great American Novel and Fitzgerald's magnum opus, drew attention to the area and helped define it, as did Franco Ford Coppola's 1974 movie version starring Robert Redford, the new release of the movie appears to be drawing more attention than ever before. Perhaps it has to do with the fact that it is appealing to new generations that may have only heard references to the Gold Coast but never really understood it or even appreciated that unique part of Long Island and American history as a whole. It may just also be due to the fact that the era still has a unique mystic about it. Either way, and for whatever the various reasons may be, Long Island is definitely on the radar as a travel destination, and it appears to be a global interest.
Hotels such as the Inn at Great Neck, which is located in the heart of the Gold Coast and Fitzgerald's West Egg, is a boutique Hotel that is a proud member of Small luxury Hotels of the World and a member/partner of Stash Hotel Rewards. The Hotel was designed with an Art Deco flare commemorating and celebrating the Roaring Twenties due to its location and the visionary leadership of its owners and parent company, Samar Hospitality. The Hotel's General Manager, Franklin Manchester, views this as one of the more exciting times within his tenure of being in the hotel/hospitality industry. When Manchester was asked what he thought about the release of the movie and the impact it will have on Long Island, he replied, "Of course we're extremely excited about the new movie coming out. We believe the renewed interest in Long Island's Gold Coast is going to give us unprecedented exposure. As a person that was born, raised and lives on Long Island it also makes me proud. There is a lot to see and do on Long Island. I always say, it's one of the best kept secrets in tourism. Long Islanders themselves don't even know or appreciate all the Island has to offer. You really have to explore it thoroughly to get a good idea of all there is to do and see."
Manchester went on to mention that some of his favorite things to do on the Island is spend time on the North Shore where he said he visits a variety of mansions, museums, parks, arboretums and beaches. He suggests that people take a car ride heading west to east along Route 25A and be sure to make some stops along the way and for one to perhaps make their way to a few side roads, typically heading north or northeast.
For more information about some preferred tourism destinations throughout Long Island, it is suggested that one contact the Long Island Convention and Visitor's Bureau and request a free Long Island Travel Guide plus additional tourism related guides. The LICVB also assists with planning vacation packages and tours for individuals and groups, as well as meetings and conventions.