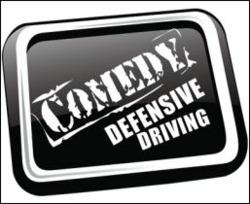 Irving, TX (PRWEB) May 10, 2013
Comedy Defensive Driving is joining the national movement to promote motorcycle safety, urging drivers to be both aware of and conscientious toward motorcyclists and to help prevent motorcycle accidents.
Comedy Defensive Driving is the latest supporter to join the National Highway Traffic Safety Administration in marking May as national Motorcycle Awareness Month, a campaign designed to help reduce the number of injuries and fatalities to motorcycle drivers across the country. According to the NHTSA, motorcyclists are approximately 30 times more likely to be killed in a crash than drivers of other vehicle types, with lack of visibility being one of the major contributing factors.
Comedy Defensive Driving is a driving and traffic school that is dedicated to providing driver instruction to its students that is both entertaining and informative in order to make sure that all motorists, regardless of vehicle type, are safe on the road. They offer both online and classroom-based courses, including ticket dismissal and court-ordered classes.
To see or sign up for any of Comedy Defensive Driving's available classes visit their website at http://www.ComedyDefensiveDriving.com. You can also "like" them on Facebook at https://www.facebook.com/comedydefensivedrivingschool, follow them on Twitter @ComedyDriving, or call them toll free at (866) 540-0584.
Comedy Defensive Driving has nearly 20 years of driver education experience. Their goal is to use laughter to make what can otherwise be a boring, frustrating process both fun and educational. They have classrooms across Texas and Florida and offer defensive driving courses online that are accepted by courts and licensing agencies across the country.