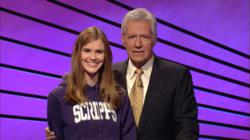 I've been a fan of "Jeopardy!" since I was a kid. My dad and I would always watch it together. When I saw they were having auditions, I thought I'd try out for it, but I never thought I'd actually be on it
Claremont, Calif. (PRWEB) May 10, 2013
Scripps College's Hannah Shoenhard '14 has won $10,000 and a spot in the semifinals of the college championship edition of "Jeopardy!" She appears again on the trivia TV show May 13.
"I've been a fan of "Jeopardy!" since I was a kid. My dad and I would always watch it together. When I saw they were having auditions, I thought I'd try out for it, but I never thought I'd actually be on it," said Shoenhard, a junior majoring in neuroscience and philosophy. "The fact that I am just blows my mind."
In addition, Shoenhard was one of 272 U.S. undergraduate sophomores and juniors to recently receive a scholarship from the Barry M. Goldwater Scholarship and Excellence in Education Foundation for academic excellence in science and math. She aspires to earn a doctorate degree in neuroscience. Shoenhard would like to conduct research in cellular neuroscience and teach at a university.
Shoenhard competes against other "Jeopardy!" contestants from such campuses as Tufts, Wellesley and MIT. She had previously appeared on the TV show May 6 and won her first round. The next pre-filmed episode is scheduled to air at 7 p.m. May 13 on KABC-TV channel 7. For more information, please visit http://www.jeopardy.com/showguide/whentowatch/.