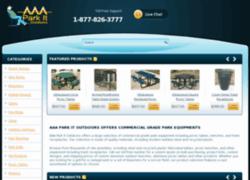 All commercial park benches supplied by are manufactured to adhere to regulations that have been specifically drafted for outdoor equipments
Indianapolis (PRWEB) May 11, 2013
Commercial park benches are largely used in outdoor areas and hence have to be designed from materials that can withstand different types of climate. Wood, aluminum, recycled plastic, steel are some of the common materials used for making park benches. AAA Park It Outdoors provides an extensive collection of commercial park benches to choose from.
Speaking about the quality of commercial park benches, a senior executive from AAA Park It Outdoors stated," All commercial park benches supplied by are manufactured to adhere to regulations that have been specifically drafted for outdoor seating equipment." This ensures that all commercial park benches from AAA Park It Outdoors are of the highest quality.
Materials like recycled plastic are extremely durable and are also environment friendly and are known to not get easily damaged. They also require very little maintenance and hence are extremely well suited for outdoor areas. Latest technology and advanced systems are used for making these commercial park benches and this ensures that the benches are resistant to corrosion.
Talking about the colors and styles of commercial park benches, a senior official from AAA Park It Outdoors commented," We provide commercial park benches in various styles including with or without backrest as well as in various shapes and colors." Bright and attractive colors are used for commercial park benches to be used in schools and playgrounds in order for them to appeal to children.
Timely delivery is offered by AAA Park It Outdoors and ensures that all items purchased online on the website are delivered in a punctual manner. Personalized assistance can also be availed of from AAA Park It Outdoors for installation of commercial park bench, recycled park bench and outdoor bleachers.
About AAA Park It Outdoors:
Complete range of outdoor equipment including aluminum picnic tables, bench swings, bleachers, trash receptacles as well as shade canopies are provided by AAA Park It Outdoors. Extensive collection of park furniture supplied by AAA Park It Outdoors is of the highest quality and standards. Safety and durability are the key features of all items provided by AAA Park It Outdoors. Well designed website maintained by them provides images as well as details of all equipment that can be purchased.