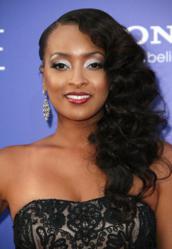 It amazes me when I see myself on top 10 lists with Beyonce, Katy Perry and Princess Kate.
Los Angeles, CA (PRWEB) May 14, 2013
As one would expect, Angelina Jolie, Beyonce, Kate Middleton and Rihanna are among a small elite group of fashionistas that continue to set the bar for glamorous hair, makeup and fashion.
Continuously topping best hair lists along with Emma Stone, Jessica Biel and Halle Berry is a suprising new comer, actress Jennia Fredrique.
With hair playing such a significant role within our society, women all over the globe look to these stars for inspiration. At a recent event for Baz Lurman's "The Great Gatsby," fashion reporters were shocked to learn that Jennia Fredrique is her own personal hair stylist.
"It amazes me when I see myself on top 10 lists with Beyonce, Katy Perry and Princess Kate, not just because they're major stars, but because you know they employ the best hairstylists in the world!" said Fredrique. If one Google's "African American Hairstyles," Jennia Fredrique's image is surprisingly one of the first you see before Beyonce or Rihanna. In fact, Jennia's locks have been duplicated by more than a dozen wig companies around the globe with the "Jennia Fredrique" inspired wig priced from $180 to $1700.
"Knowing that a woman in the UK or Brazil can wear a wig named after me is so surreal!" continued Jennia. Ms. Fredrique has styled her tresses in a vast array of styles ranging from 1940's glam to modern waves.
Fredrique recently starred in films "The Skinny," "Marriage Material" and MTV pilot "Watching The Wilson's." Jennia also hosts celebrity interview series "Beyond The Talent" sitting down with the biggest names in music including Usher and Kevin Hart. The self-styled star also told reporters that she eventually wants to start a healthy hair care line and makeup line.