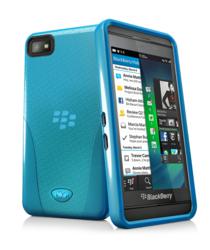 iSkin will help raise awareness regarding Keian's leukemia.
Toronto, Ontario (PRWEB) May 11, 2013
iSkin, a premium brand of fashion and technology lifestyle accessories today, gifted 6-year-old Keian, a young Canadian who was diagnosed on July 10, 2012 with T-cell acute lymphoblastic leukemia (also known as "blood cancer") an iSkin vibes case– the company's MicroBan® embedded protective cover for the new BlackBerry Z10.
Upon learning about iSkin, Keian's father contacted the company to purchase the product after recognizing that the embedded MicroBan® feature would help reduce the levels of bacteria on the BlackBerry Z10, benefitting Keian's weakened immune system. After hearing Keian's story, iSkin willfully decided to give Keian's dad the case free of charge. iSkin also will help raise awareness regarding Keian's leukemia.
Keian has recently undergone a bone marrow transplant, which has resulted in a weakened immune system and created the need for a sterile environment. This meant young Keian had to replace many of his valuables around him, including the existing case on his BlackBerry Z10 – which he enjoy playing games and surfing the web on.
To learn more about Keian's story, his father has set up a blog for others to follow his son's story. See here: http://keiansjourney.blogspot.ca/.