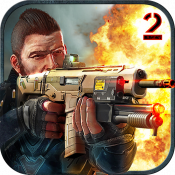 "PreApps played its role in our successful launch. It's a great value service and the people behind it are amazingly helpful"
Boston, MA (PRWEB) May 16, 2013
"We are so thrilled with the performance of Overkill 2. It quickly eclipsed the 250,000 download mark, and it's got its eyes set on reaching millions of downloads. It's a great video game app and we were happy to play a role in its success," said PreApps CEO and Founder Sean Casto. Overkill 2 and the Overkill series are developed by Craneballs Studios. The original Overkill went on to receive over 11 million downloads across iOS and Android. Overkill 2 can be downloaded for free on the App Store and on Google Play.
"PreApps played its role in our successful launch. It's a great value service and the people behind it are amazingly helpful," said Daniel Craneballs of Craneballs Studios and Overkill 2. Overkill 2 has over 30 3D weapons that will take your breath away. There are dozens of upgrades for the guns. There is combat equipment and tactical items, with tight gameplay and more.
There is something for everyone in the new Overkill 2. For casual video game app players, the game offers arcade-quality rapid fire game play as you shoot down targets. For first-person shooters, Overkill 2 allows players to indulge in weaponry by adding stocks, extended magazines, longer barrels, dot sights, and a grenade launcher. Go into 'Survivor Mode' and see where you rank on global leaderboards as well as create profiles and unlock call-signs.
About PreApps
PreApps is your personal preview into the world of mobile apps! With over 1.4 millions apps currently on the market and over 30,000 new apps submitted each month, PreApps is the exclusive place to preview new and exciting apps coming soon. Our vision for PreApps is to forever enhance the relationship between mobile app developers and mobile app users, which will in turn create better apps. By implementing user feedback in the development process, apps have a greater chance of success, and for users a more enjoyable experience. Our collaborative process results in promoting pre-release buzz, pre-opted in user downloads, and critical developing user feedback. Copyright (C) 2013 PreApps.